Forklifts continue to be a necessary part of the manufacturing, warehousing, construction, and distribution industries. The pronged device helps with lifting and lowering in light-duty and heavy-duty applications. The COVID-19 pandemic has affected the trends driving forklift use and availability of the parts and supplies needed to manufacture them. 
1. Infrastructure Investment Is Increasing Forklift Demand 
Governments are investing in infrastructure around the world, especially in growing economies. This investment is driving the demand for heavy-duty forklifts that can manage bulky and heavy loads. Construction companies need forklifts to manage heavy precast concrete and other bulk materials.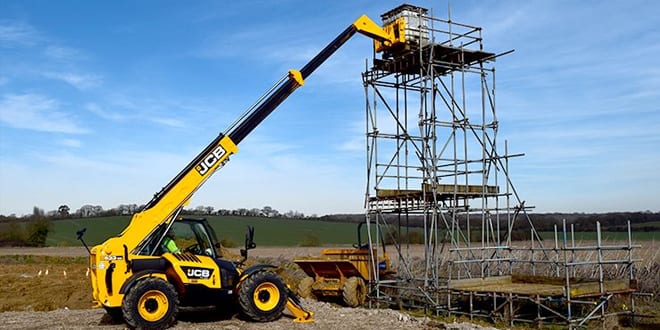 Along with forklifts helping with the demand for new infrastructure, they are also leading their own need for infrastructure. As companies want to add more electric forklifts to their inventory, companies need to upgrade their electric infrastructure. They need charging stations that can meet the 10- to 30-amp demand for each truck. 
They also need backup power if communities have power outages. Many companies already have backup power for computers and other tech devices, but they need more to keep their forklifts both running and servicing. 
2. Increased Demand in Warehousing and Distribution Industries
Globally, warehousing and distribution companies need forklifts to keep up with their customers' demand for moving more goods. The COVID-19 pandemic has forced people to increase their online shopping habits, thus changing the way inventory moves from the manufacturer to the end-user.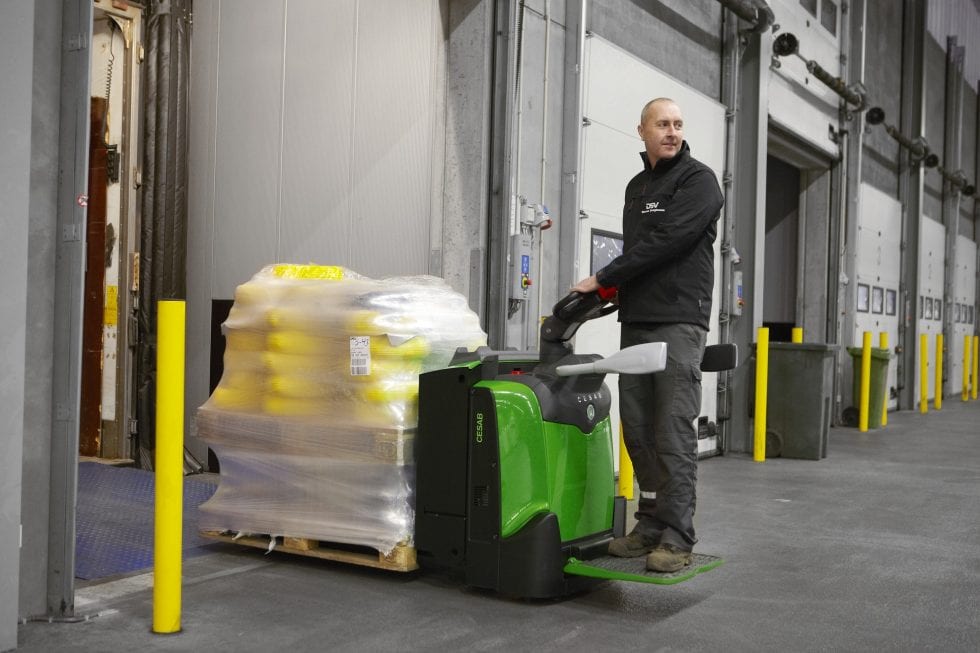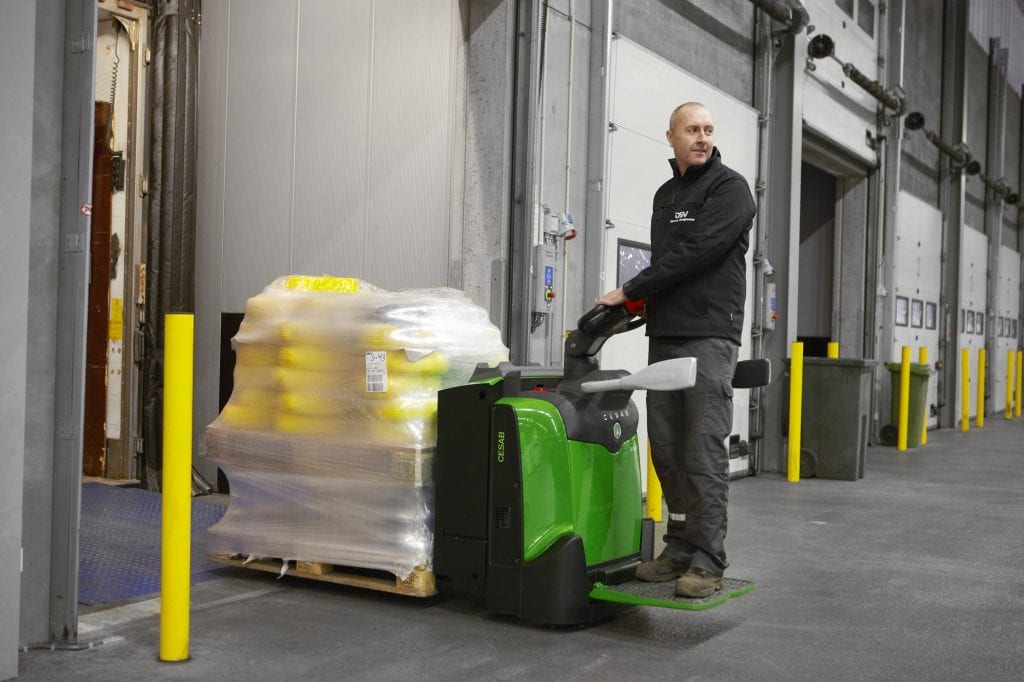 Logistic companies need more narrow-aisle forklifts, pallet stackers, and counterbalance forklifts to manage the demand for more inventory. They need forklifts to fit into tight spaces so they can reach more inventory into tightly packed and highly stacked shelving units. The forklifts need to meet high-performance standards due to growing e-commerce and retail needs. And of course, there is a growing demand for training new forklift operators faster than ever.
3. Increased Demand for Forklifts Powered by Sustainable Energy
Hiring or buying electric forklifts is an economical alternative to gas-powered forklifts. They are quiet, safe, clean, and easy to operate. Electric forklifts can do the same work that gas-powered forklifts can do, but they do it without emissions. 
These eco-friendly forklifts have advanced technologies that have improved their performance, thus increasing demand from a range of industries. 
The demand for electric forklifts is increasing as local governments are pushing industries to use innovative technologies. The government push is increasing the market share for all-electric forklifts, and forecasts indicate that electric forklifts are the fastest-growing segment.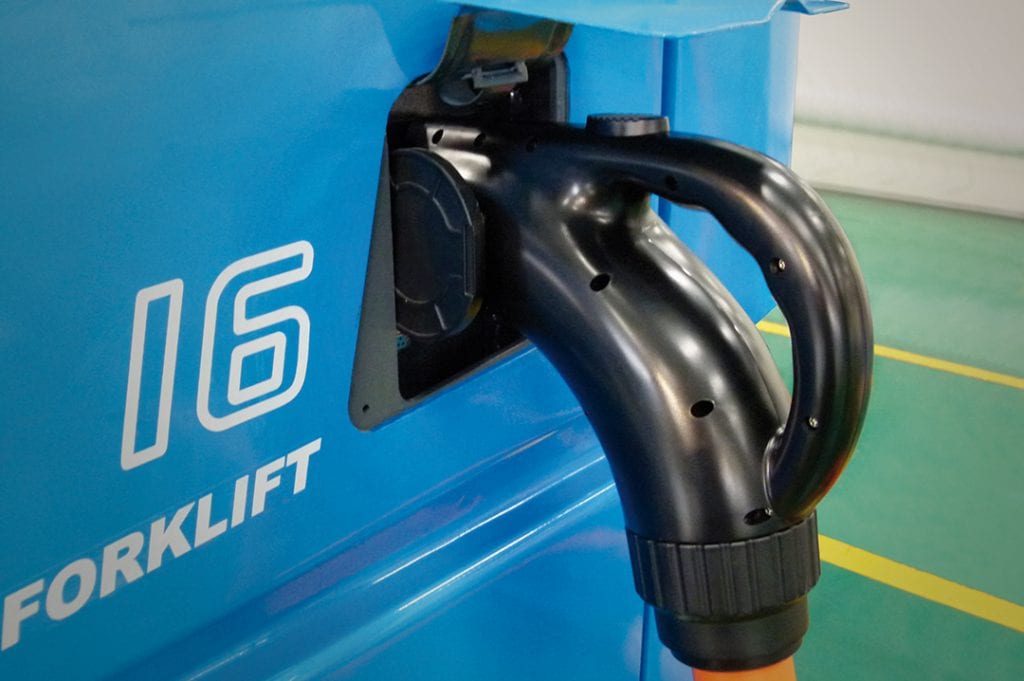 Electric forklifts can do everything a forklift with a combustion engine can do. They can accelerate, control speed on ramps, brake, and lift just as well or better than traditional forklifts. Because of the AC motors, electric forklifts can accelerate faster, and the newest counterbalanced electric forklifts can out-perform the internal combustion models. 
Another trend in electric forklifts is the reliance on lithium-ion batteries over lead-acid batteries. Li-ion batteries are commonly used in Tesla cars and other EVs because they charge quicker and weigh less than their lead-acid counterparts.
4. Demand Is Increasing for Autonomous Forklifts
Along with the increasing demand for electric forklifts, customers also want autonomous forklifts. As more logistics and materials companies adopt artificial intelligence, they want machines that can connect to their computers and manage autonomous demands. Autonomous forklifts need to provide real-time responsiveness to move goods efficiently. 
When companies use AI and autonomous forklifts, their human employees can do other critical work. The autonomous forklifts technically replace the skilled workforce as it moves goods around the floor without needing an employee inside each truck. Companies that choose autonomous forklifts can spend their human resources budget elsewhere, thus increasing productivity and creativity in their companies. 
The need for autonomous forklifts also comes from rapid growth in infrastructure in developing countries. These growing countries need more material handling, but they don't want to put a human in every forklift. 
In developed countries, the demand for autonomous forklifts comes from end-use industries, especially logistics and transportation companies. 
Autonomous forklifts fill the need to increase operational efficiency by reducing staffing problems. The machines can run 24/7 without needing time off for injuries, breaks, and sleep. Automated forklifts are less likely to damage products, and they can move items faster without errors. 
The newest automated lift trucks are driving a need for computer chips, sensors, and cameras so they can efficiently do their jobs. They also need software that integrates with pre-existing telematics and warehouse management apps. The software also needs to provide immediate information to managers when technology fails or needs upgrades. 
5. Growing Need for Forklifts in China and Other Asian Markets
China and other Asian markets need more forklifts. Companies and governments in China, Asia, and European markets need forklifts to meet the demand from the e-commerce and retail sector. According to market forecasters, the demand in India is expected to be around 13% CAGR through 2027. 
The Indian market needs more forklifts to move materials in the growing warehouse industry. India has a rapidly developing logistic sector, so the country needs more high-performance forklifts. The potential investment in the Indian logistic industries could reach GBP 360 billion by 2025.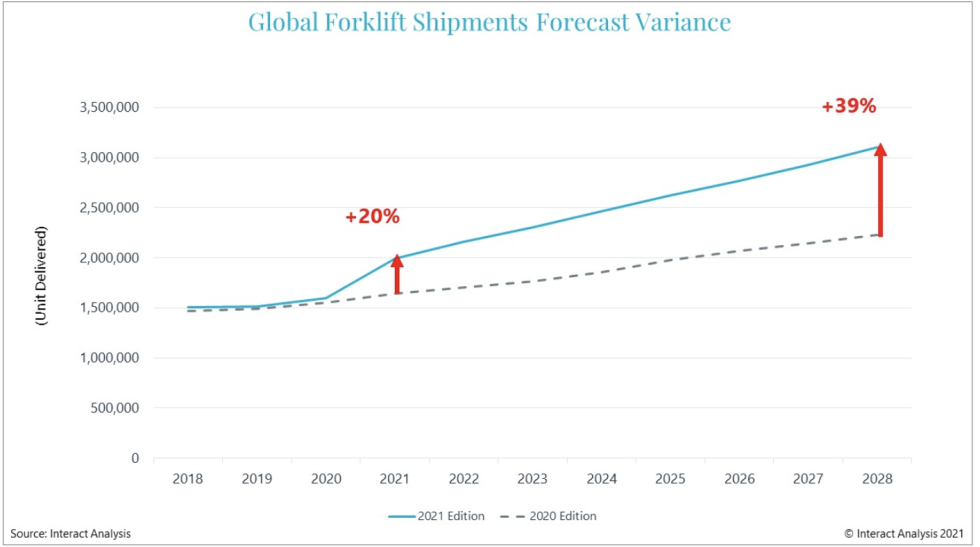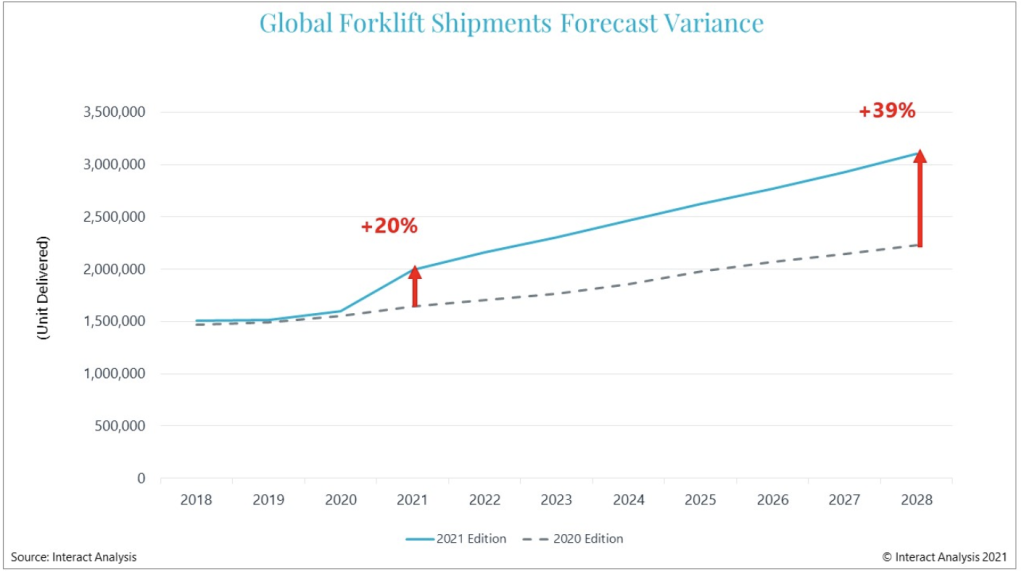 China needs more forklifts to manage its massive manufacturing industry, and the country also needs parts and supplies to support its forklift manufacturing companies. The situation is similar in the United States, where manufacturing and the need for modern forklift trucks continue to grow. 
The country uses more class III and class V trucks than other types. However, as more companies turn to automated and electric forklifts, Chinese companies will need more small class lift trucks. 
Despite the Asian market needing a significant investment in new forklifts, the European market is also growing and increasing its demand for forklifts – especially those with electric motors. 
In Conclusion
The trends in forklift use involve using sustainable energy sources and automation. These technologies require manufacturers to change the way they manufacture their lift trucks. The innovative technologies also require the end-users to change the way their internal infrastructure supports their high-tech and sustainable tools. If you are looking for more information on the different types of forklifts available on sale from Angus Lift Trucks, we serve a wide range of areas in the Midlands, including Leicester, Nottingham, Birmingham, Northampton, Warwick, Derby, West Midlands & East Midlands.
This post is also available in:

Français

Deutsch

Italiano

Português

Español

Български

Hrvatski

Eesti

Latviešu

Lietuvių

Polski

Português

Русский

Slovenčina

Slovenščina

Türkçe

Українська

Albanian

Čeština

Dansk

Nederlands

Ελληνικά

Magyar

Română