The cinema is wrought with inappropriate uses of heavy equipment. However, some of the best forklift movie scenes are comically designed to look ridiculous and show completely inaccurate representations of how one operates a forklift.
The greatest forklift truck movie scenes seem to inspire laughter and appreciation for the comical situation. While they sometimes end in unfortunate ways – decapitation not being least among these – the audience is at least left with the feeling that such ridiculousness will likely never happen to them. 
Forklift Truck Scenes in Hollywood Movies
The greatest forklift truck scenes in Hollywood movies can be found in these films:
Yours, Mine, and Ours

Smokey and the Bandit

The Incredible Hulk (2008)

Ride Along 2

6 Underground

Cars

Bad Boys for Life

Lethal Weapon 4

Extract

Hereafter

National Security

Aliens

Forklift Driver Klaus

The Voices

The Office (US)
Many of the best forklift movie scenes show a completely inappropriate use of heavy machinery. If the forklift isn't being used as a weapon of some kind, it's almost certainly being operated by someone who has no business operating it. 
We hope that these scenes will inspire laughter and give individuals a reason to pause and consider how valuable the forklift is in everyday life. Qualified forklift truck drivers deserve the proper respect that comes with handling equipment, and these best forklift movie scenes show precisely why.
Yours, Mine, and Ours 
This funny scene features a couple of boys accidentally wreaking havoc on a small grocery store while their father chases them down in a desperate attempt to stop them. The forklift featured seems to cause little physical damage, although I can't imagine how much repairs to the store must have cost, let alone the repairs of the forklift. 
I think the moral of this particular forklift movie scene is that chasing toys into heavy equipment is never recommended, no matter the situation. 
Smokey and the Bandit
Smokey ought to know better than to treat his partner Snowman with such carelessness. But should Snowman have hopped on top of the forklift? The recklessness in this scene contributes to the ridiculous situation. 
If you ever consider jumping onto a forklift, I recommend doing something else. There's no reason to endanger yourself the way Snowman does. Of course, you can always get trained on operating a forklift truck with courses from Angus Lift Trucks in  Leicestershire, Nottinghamshire, Northamptonshire, Birmingham, Warwickshire, Derbyshire, East Midlands & West Midlands. 
The Incredible Hulk (2008)
There is no situation I could imagine where a forklift should be used as a weapon. At least, not unless you're a giant green monster with super strength and forced to fight off an entire army for no apparent reason. 
Forklift truck scenes in Hollywood movies are usually entirely predictable. However, this one stands out in that throwing a forklift across a warehouse is possibly the last thing I expected. I think the best moment here is how the forklift comes out of nowhere. 
Sometimes life needs the unexpected.
Ride Along 2
If you've ever wondered how a forklift would do in a car chase, then you're in luck. This may not be the proper use of a forklift, but it certainly works given the circumstances. This scene exhibits all the critical action movie tropes and adds a few extras for fun. 
This is one of the greatest forklift truck movie scenes because it shows a more creative use for what is clearly a multi-functional piece of heavy equipment.
The best forklift movie scenes ought to bring a smile to your face. I think this scene accomplishes that particular requirement splendidly. 
6 Underground
This scene must come with a warning: it's slightly graphic. The best forklift movie scenes up until now show some comical uses of the heavy equipment, although no qualified forklift truck drivers appear to be present. 
While a tragic way to end one's life, there is ridiculousness about this scene that removes some of the gravitas. There is, however, an important lesson to be learned: fancy driving is no match for a forklift. 
Cars
Something magical happens in this animated flick when Guido the forklift comes to Lightning McQueen's rescue in the most intense moments of the race. No one thinks he can do it because he is just a little forklift. But Guido saves the day.
The best part about this particular forklift scene is the way the other forklifts drop their "jaws" at the sight of Guido's speed and agility. If there were an award for the absolute greatest forklift truck move scene, it would likely go to this one. 
Bad Boys for Life
When I die, I hope the words "impaled by a forklift" appear nowhere on my tombstone. It seems apparent that fighting in warehouses will certainly do poorly, but the people in this scene apparently needed that reminder.
This proves to be another unfortunate moment for those involved in the improper operation of the forklift truck. Equipment handling should be done with care and training to avoid unnecessary impaling and the like. 
Lethal Weapon 4
Lethal Weapon 4 teaches us, once again, that you may use a forklift as a weapon of sorts. But only when absolutely necessary. It's a good thing that Jet Li is quick on his feet; otherwise, we might have witnessed another unfortunate impaling.
This time, at least it's the good guys utilising the forklift truck. Some good improvisation must have gone into the thinking behind this scene. 
Extract
Some awards should go to the best forklift scenes in Hollywood movies. Some awards should also go to the most unfortunate forklift scene. If such an award existed, it most certainly would go to Extract. 
There's no good way around this one. If you can watch it without cringing or letting an "oof!" escape your lips, then know that I worry for you.
Above all else, I firmly believe that the lady ought to be fired. Immediately. 
Hereafter
Of all the scenes we've watched thus far, this is the only one that shows genuinely proper use of the forklift truck. Matt Damon's character operates a forklift as part of his job, and the movie portrays him as someone qualified to use this kind of heavy equipment.
Even though the scenes took ample time to shoot, the film seems to be a worthwhile portrayal of a blue-collar worker who must use big machinery in everyday life. 
I appreciate Hereafter because it highlights forklift drivers as an essential part of the workforce. And it does so without using ridiculous stunts or resorting to throwing heavy machinery across shipyards and warehouses and the like. 
National Security
Though not the most ridiculous scene that we have so far discussed, this certainly gives us good reason to stress once again that fighting in a warehouse is unwise. Unfortunately, the bad guys use the forklift for their unsavoury ends and manage to escape.
It is good to know that, when needed, a forklift truck can break through walls. At least these particular walls stood no chance. Apparently, a forklift is an effective escape vehicle in a pinch. 
Aliens
Now, I know what you're thinking. And you're likely correct. This scene seems to take forklifts to a whole new level. With no context, this might seem like a strangely practical idea. It seems to do the trick at this moment, at the very least.
After a slew of unqualified individuals attempting to use forklifts in various ways, I think it's safe to say that at least the heroine is a certified forklift operator. Granted, it's more of a forklift suit. Nonetheless, she clearly knows what she's doing. And there's some comfort in that. 
The Voices
When a forklift appears at the end of a film, it's always a strange occurrence. The forklift cameo in The Voices is no exception. It seems that this pink forklift truck is raising the main character into . . . heaven? 
An oddly unique moment, especially when compared with other scenes that we have thus far examined. First of all, I've never seen a pink forklift. But Ryan Reynolds appears to have no trouble trusting it to raise him into eternity.
Forklift Driver Klaus
While not technically a Hollywood film, this informational safety video conveys a sombre message: don't screw around with forklifts.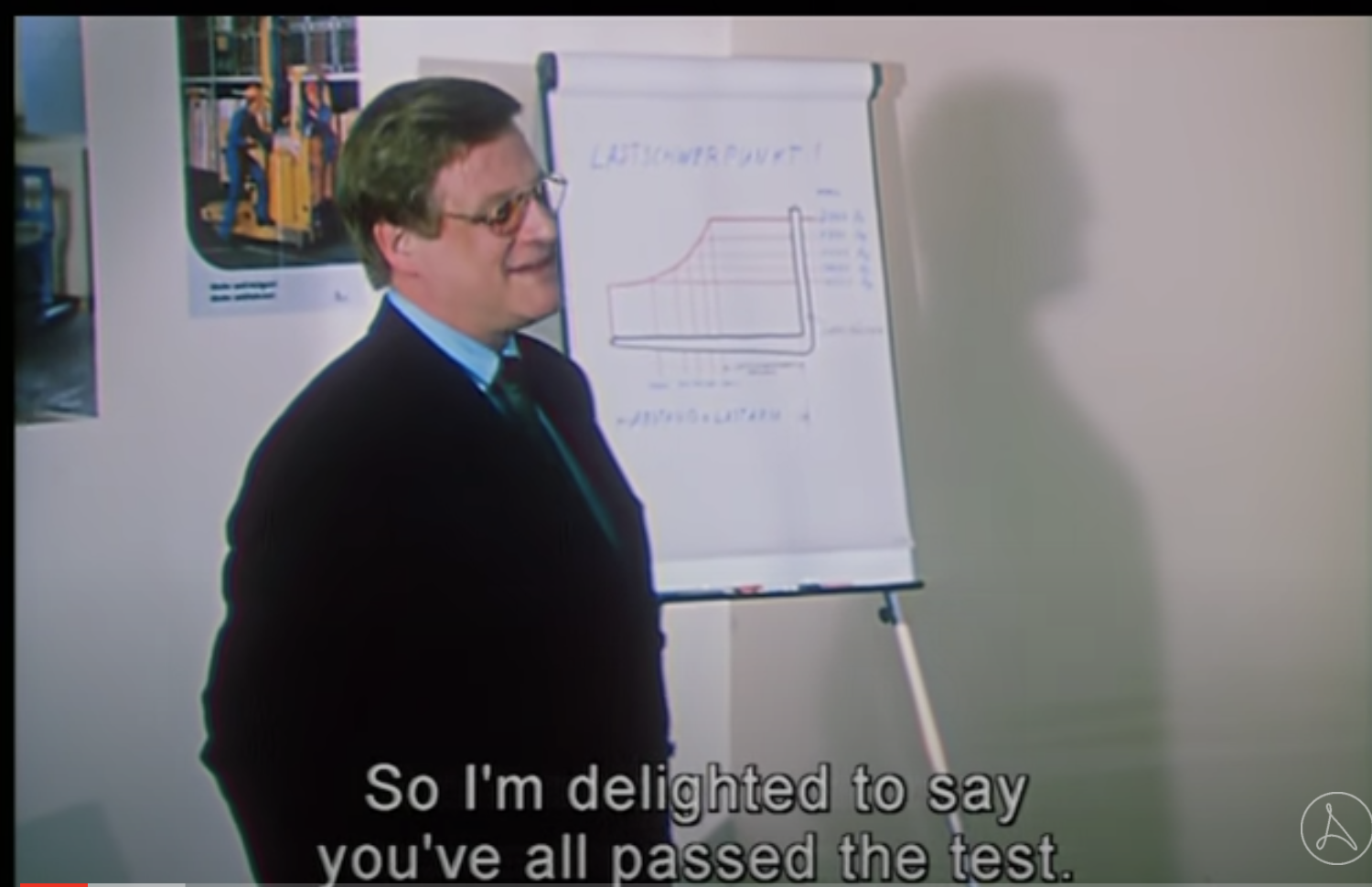 This German-produced work safety video features Klaus, a newly minted forklift operator who is thrilled to be starting his new position. As you might expect, havoc ensues. And Klaus comes to an unfortunate end, reminding us that heavy machinery is not a toy once again.
The Office (US)
No, Michael Scott should not be allowed to drive a forklift. There is no question that disaster would ensue. Another moment that is not technically from a Hollywood film, but another moment that conveys important forklift safety information.
Once again, we are reminded that only qualified technicians should be operating heavy equipment like forklift trucks. There is no real reason for anyone else to be driving them. It can only end in tears.
Heavy Equipment is Only for Professionals
I think we have all learned an important lesson from these scenes. Even the best forklift movie scenes show us that a warehouse is no place to screw around. And you should definitely not touch a forklift unless you are a qualified forklift truck driver. This is the only way to ensure that no one loses any limbs or is otherwise impaled by heavy machinery. 
Finally, if you require other forklift services than training, at Angus Lift Trucks we have a large stock of access platforms, floorcare equipment, and forklifts for sale &  hire
This post is also available in:

Français

Deutsch

Italiano

Português

Español

Български

Hrvatski

Eesti

Latviešu

Lietuvių

Polski

Português

Русский

Slovenčina

Slovenščina

Türkçe

Українська

Albanian

Čeština

Dansk

Nederlands

Ελληνικά

Magyar

Română