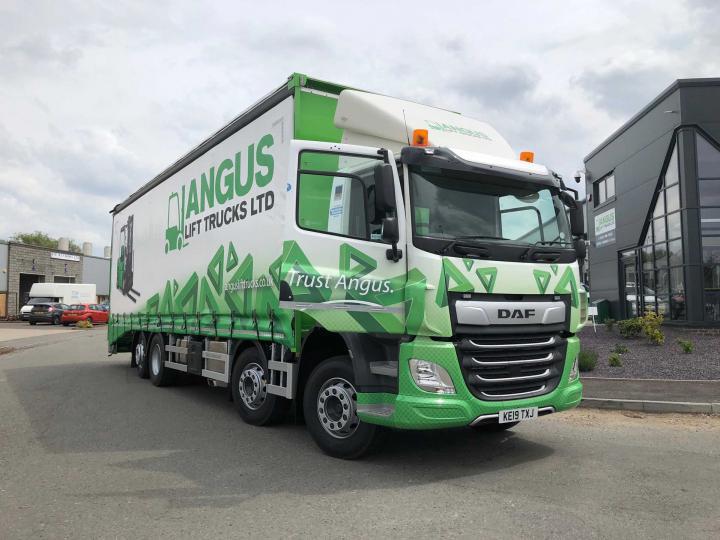 Why Angus Lift Trucks?
Here at Angus Lift Trucks, we offer a diverse range of reach truck equipment for sale to meet the requirements of every customer across the UK, in areas like Leicestershire, Northamptonshire, Birmingham, Nottinghamshire, Warwickshire, Derbyshire, West Midlands, East Midlands, to name just a few. Come explore our assortment of new reach forklifts for sale and an evolving selection of used models so you can keep your business running smoothly even if you're on a budget.
We provide LPG, electric, and diesel counterbalance forklift trucks. If you're looking for additional equipment, we also have stacker trucks, pallet trucks, reach trucks, and other vital warehouse equipment.
No matter your budget, you and your company can afford to purchase an Angus reach truck. With our flexible financing options and payment options, all our reach truck equipment on sale is affordable. As a bonus, we're approved as an official distributor for Cesab handling equipment and reach forklift trucks for sale within the UK.
CESAB R100 Reach Trucks for Sale, UK
The CESAB R100 reach truck is an excellent purchase for basic operations where ease of use and efficiency are highly valued. This model features precise fingertip controls that make it easy to use when handling various goods and safe maneuvering with electric steering.
When you buy CESAB reach forklift truck at one of our UK facilities, you can also look forward to an adjustable cockpit with a footplate that moves to ensure all drivers' comfort. Additionally, there's a low footstep that makes getting in and out easy and pedals identical to a conventional car. For details regarding a used or new CESAB R100 reach truck for sale throughout the UK, contact us today.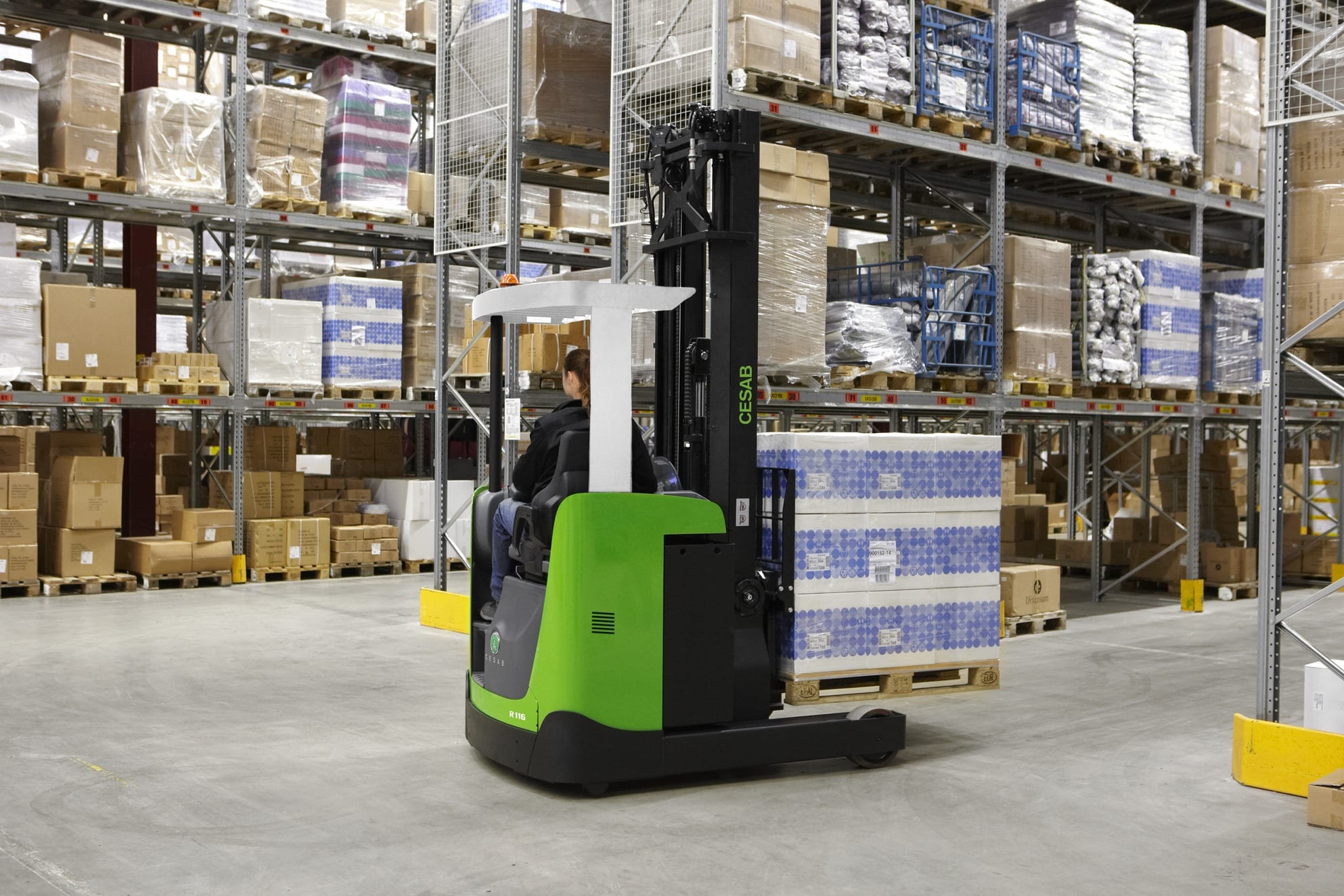 CESAB R200 Reach Truck Sales, UK
If you're in the market to buy CESAB reach forklifts for your UK projects, the R200 is a well-rounded option that is both flexible and compact. The narrow chassis helps with maneuverability, making it ideal for tight stacking without sacrificing the driver's comfort. This model also has an open overhead design for better visibility in all directions.
When considering a new CESAB R200 reach fork truck for sale in the UK, you'll also get the benefit of programmable restrictions and features that you can apply to specific site areas for added safety. The addition of 360-degree steering rounds out this model's unique features, including the standard foot pedals, electric steering, and fingertip controls found in the R100.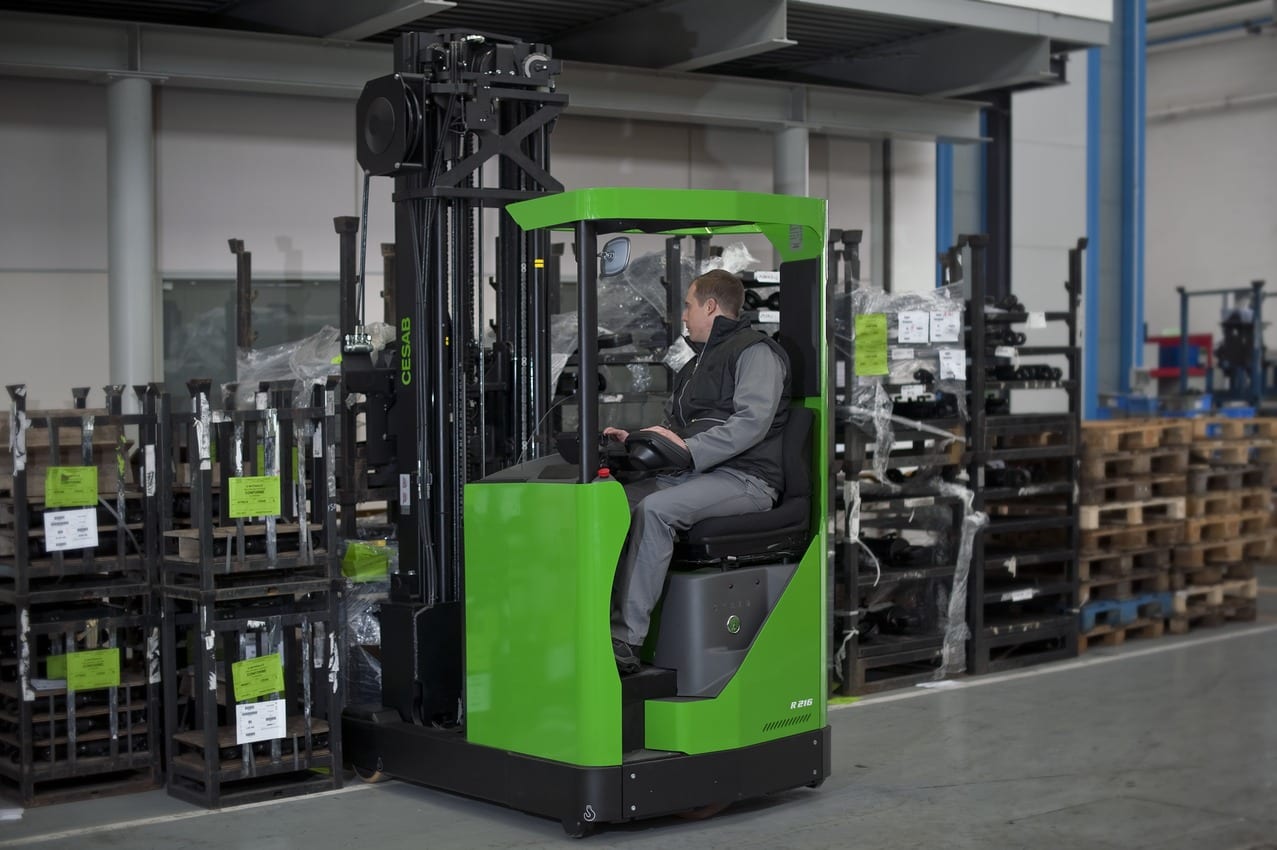 CESAB R300 ReachTrucks for Sale, UK
For a higher intensity environment, you'll want to look into the new CESAB R300. This model features the same all-around visibility but comes with higher operational speed for situations that demand maximum output. The open design allows for a better view from the fully adjustable cockpit, and there's the added option of a transparent roof. This model also has 360-degree steering with programmable restrictions but adds Transition Lift Control (TLC) that eliminates mast shocks.
Another feature to look forward to when buying a CESAB R300 Reach truck is the Optimised Truck Performance (OTP) package that provides added safety and total performance. For many years of optimized service and details on how to buy CESAB reach trucks for your UK project, reach out to us anytime.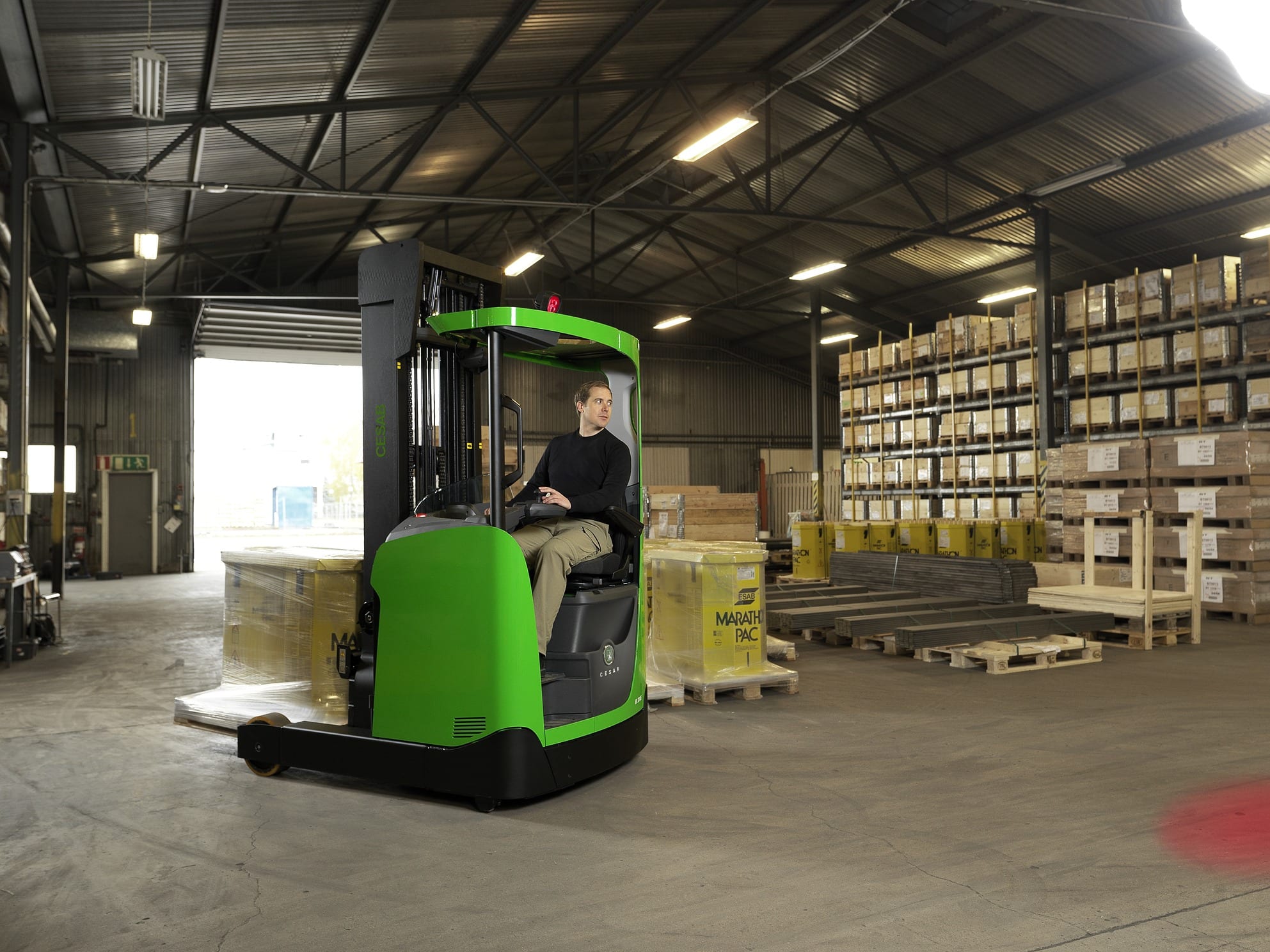 Reach forklift trucks are a very popular purchase in UK warehouses, and they offer faster retrieval and storage of goods. Buying a reach truck forklift can also help you increase the density of storage in your warehouse by allowing you to stack goods at greater heights than you otherwise would.
Many forklift designs are also relatively compact, which makes them ideal for small isles and tighter spaces without creating an unsafe situation for the driver. Most of these forklifts also come with high-capacity batteries which enable more intensive use of the reach forklift trucks.
What makes these units highly valuable is their ability to safely lift incredible amounts of weight to significant heights in a safe manner to make the most of vertical storage solutions.
This equipment gets called a "reach truck" thanks to the extendable mast that allows them to work within a small footprint and disperse the weight of a load between the machine's body and forklift component.
Both used and new reach forklift trucks available for sale from Angus come with safety features that keep drivers safe during operation, and some newer models offer greater customization when it comes to programmable restrictions in certain areas of your property.
When researching for reach truck forklifts for sale, you'll even find that some units have safety features such as slowing down when cornering, and they can detect load height and weight to determine safe maneuvering. This level of speed control not only keeps the work area safe but limits potential damage to the equipment itself and allows for maximum performance in different situations.
Many used reach truck models on sale feature several safety functions as well, so there's no reason not to cheque out these units if that's what fits best in your budget. Some lightly used models appear brand new, and since these machines have a long lifespan, you can get several years of excellent service.
For more information about reach forklifts for sale for your UK projects, don't hesitate to contact us at any time.
Used Reach Trucks for Sale within the UK
We offer a variety of second-hand reach trucks for sale – including gas, diesel, and electric – to best suit your needs. Some of the brands that we carry or had on sale include CESAB, Hyster, Yale, Caterpillar, Toyota, Nissan, and TCM to name just a few.
Our models of used reach forklift trucks are available for sale throughout the UK, and our stock constantly changes as we procure new stock. You'll find a decent selection of used reach trucks for sale at Angus, of all sizes and capacities to browse for all your company needs.
Each pre-owned reach truck we sell comes with a fleet number and details about its condition, including whether it's been serviced recently or painted. If you are looking to buy used reach fork truck listings, our site also allows you to enquire about specific models we have in stock.
When you buy pre-owned reach forklifts, you can also expect to pay a lower price than when you buy new, but that doesn't mean you have to sacrifice performance.
Many of the units we stock look almost new, come with additional equipment, and feature capacities exceeding 1600kg.
Many of the used reach truck forklifts we offer for sale throughout the UK come with double or triple masts for added functionality, and you can find other features such as side shifts, full free lifts, and masts that allow for clearer views during operation.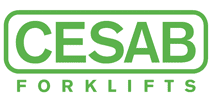 Flexible Financing Options
Are you dealing with credit issues or a limited budget? We want to work with everyone, regardless of your financial situation. Call us today to find out about our flexible financing and payment options. We're sure to be able to get you into a certified used pallet truck and out the door.
No matter your power preferences or weight capacity, we're sure to have a pallet truck on sale to meet your needs. We offer electric, gas, and diesel-powered pallet trucks for lightweight to heavy-duty capabilities.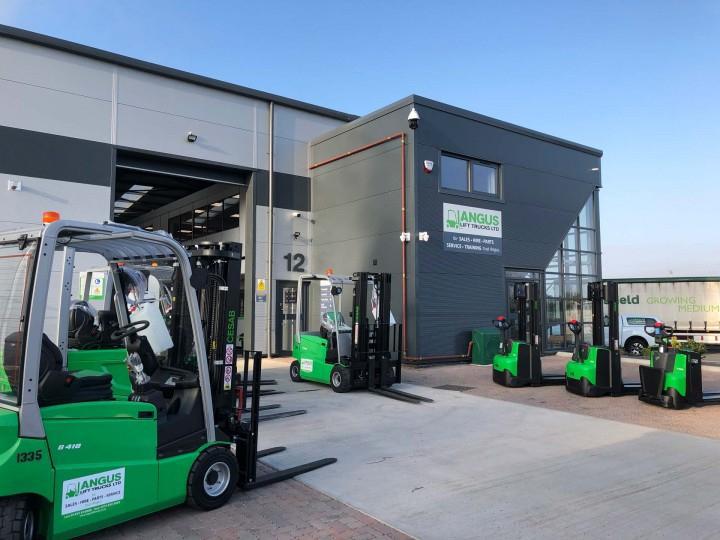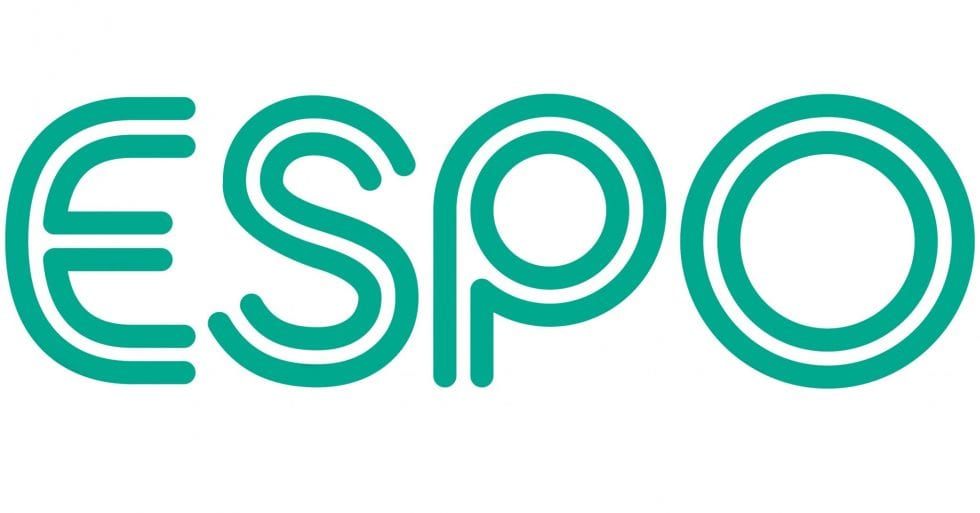 ESPO is a local authority purchasing and distribution consortium, supplying a huge range of workplace products, from food, furniture and hardware to stationery and vehicles, to the education sector and other public and private organisations.

Nylacast is a leading manufacturer of low-weight. low-friction polymers and award-winning solutions for safety-critical applications, with over 530 employees based at six sites around the world. The company's Leicester operation Includes Nylacast Automotive.
Areas We Serve
Angus Lift Trucks has over 35 Years of experience in forklift sales, hire, service & training across Leicestershire, Derbyshire, Northamptonshire, Nottinghamshire, Warwickshire, West Midlands and East Midlands.
Leicestershire
Leicester, Blaby, Charnwood, Harborough, Hinckley, Market Bosworth, Melton Mowbray, Oadby & Wigston
Nottinghamshire
Nottingham, Ashfield, Bassetlaw, Broxtowe, Gedling, Mansfield, Rushcliffe, Newark, to name just a few.
Warwickshire
Warwick, Atherstone, Bedworth, Kenilworth, Leamington Spa, Nuneaton, Rugby, Shipston-on-Stour, Southam, Stratford-upon-Avon, etc.
Birmingham
Digbeth, Erdington, Edgbaston, Harborne, Moseley, Solihull, and many more.
Northamptonshire
Brackley, Corby, Daventry, Desborough, Higham Ferrers, Kettering, Northampton, Rushden, Towcester, Wellingborough, and many more.
Derbyshire
Derby, Matlock, Ripley, Ashbourne, Ilkeston, Swadlincote, Burton-on-Trent, Buxton, Chesterfield, Draycott, to name just a few.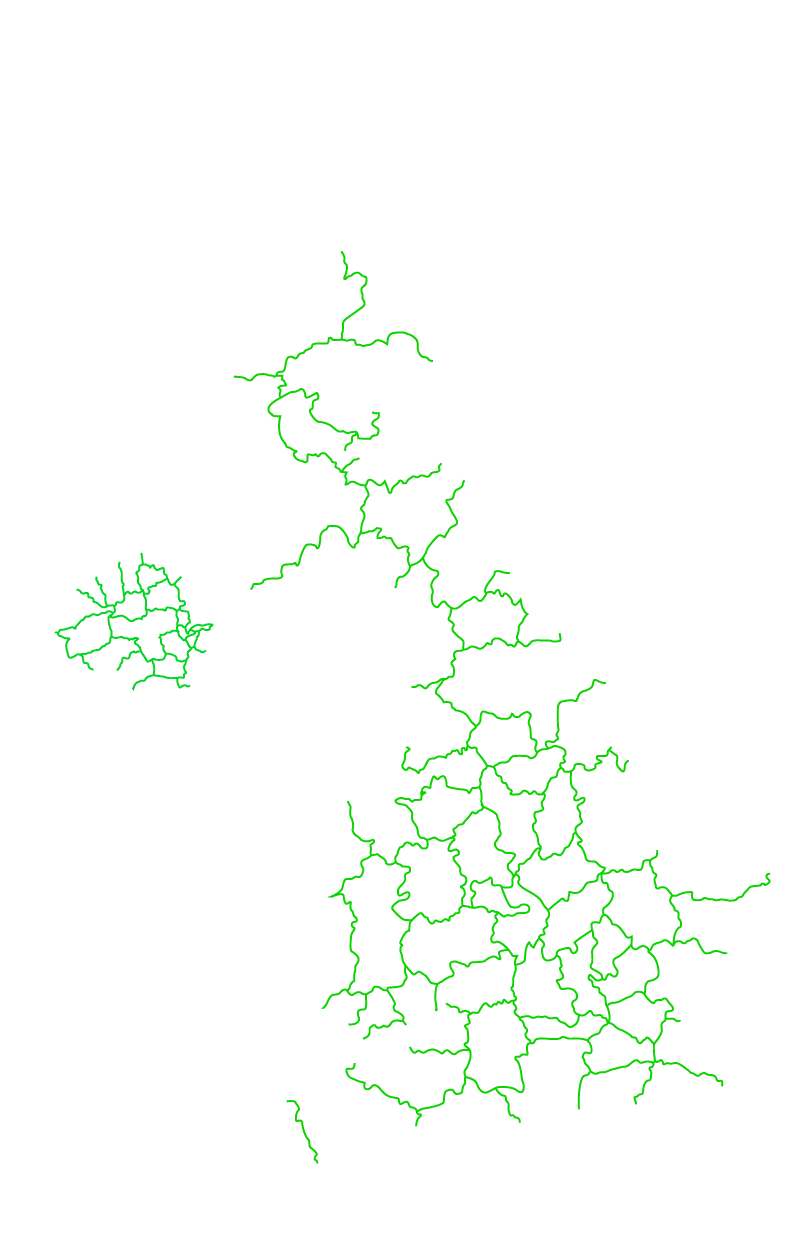 Our Forklift Services across UK
In addition to reach truck sales we offer the following forklift services across the UK:
For more information about our current used reach truck forklift inventory for sale, or to enquire about details of a particular model, don't hesitate to contact us at your convenience.