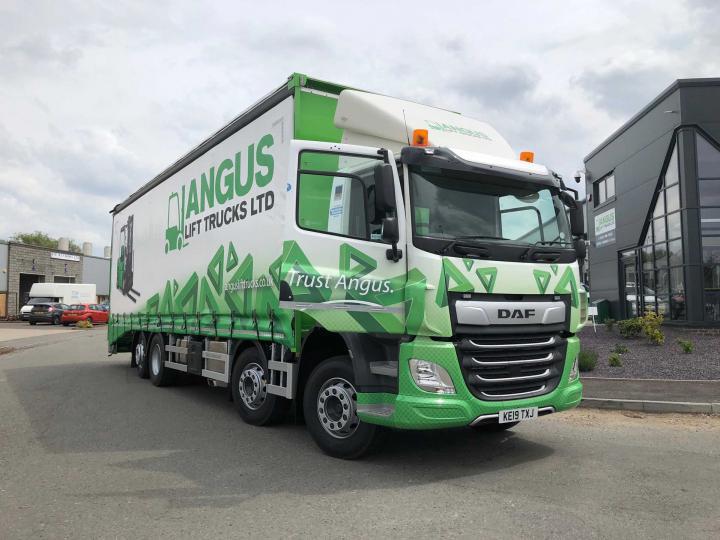 Why Angus Lift Trucks?
For Manitou rough terrain forklift sales and hire within the UK residents can contact the Angus team. Our experts can tell you more about new and used models available for sale & hire, no matter what you need for your business.
Using a forklift allows for the safe and efficient handling of heavy materials without risking workers' health and safety. Businesses across the UK rely on forklifts every day to keep things running smoothly on a day-to-day basis.
At Angus, we're dedicated to helping your business improve material handling operations. We supply top-of-the-line new and used lift truck sales and rentals for UK businesses through our fully stocked workshops in Leicester, Northampton, Birmingham, and Nottingham. Some of the UK areas most often served by Angus for rough terrain forklift truck sales & hire include West and East of Midlands, from Leicester, Nottingham, Northampton, or Birmingham, to Derby and Warwick.
Rough Terrain Forklifts for Sale & Hire, UK
We've partnered with top names in lift trucks, including brands such as CESAB, Combilift, Baumann, Flexi, Genie, Hako, and Manitou, to bring local businesses the best possible equipment for heavy lifting.
For Manitou rough terrain forklift truck sales & hire UK businesses can turn to us for help. We sell and hire an extensive line of new and used Manitou lift trucks in UK areas like Leicester, Northampton, Birmingham, Nottingham, Warwick, Derby, West Midlands, and East Midlands, that offer superior performance in almost any rough terrain condition.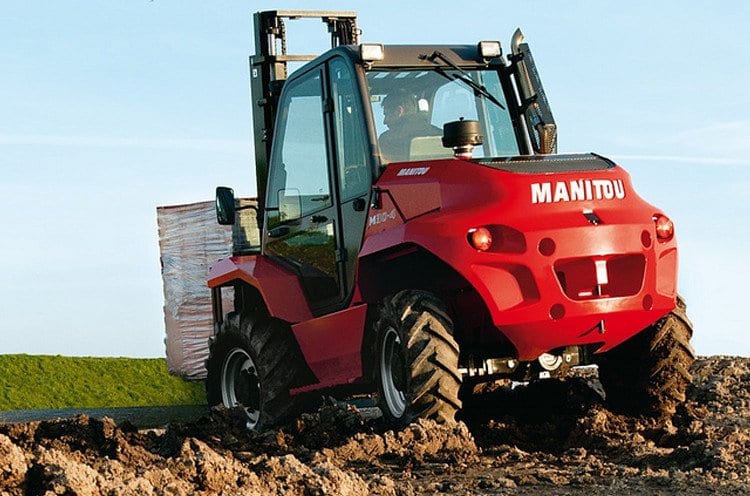 Manitou Rough Terrain Fork Truck Range
Known for their durability and versatility, Manitou lift trucks are able to tackle terrain that other forklifts can't handle. Their heavy-duty design offers superior performance in just about any conditions, from slogging through the mud to navigating rocky surfaces.
Oversized, all-terrain, or mixed tyres allow Manitou lifts to gain traction on any terrain. You can find two-wheel drive options or hire & buy 4X4 Manitou rough terrain forklift trucks. High ground clearance and a tiltable mast offer ground clearance of up to seven meters.
For Manitou rough terrain forklift sales & hire, UK residents can contact us or visit one of our warehouses or contact us for more information. We carry a wide range for those looking for a Manitou rough terrain forklift truck for sale or rental within the UK.
The M series is the flagship forklift lineup of the Manitou brand. Each model houses an IV-certified Perkins engine to power through even the most challenging terrain while still reducing fuel consumption by as much as 13%. M series lifts also boast adapted torque converter transmission for greater control. There are several different sizes and styles of M series lifts from which to choose.
This masted forklift is designed to operate in extreme conditions, from quarries to lumberyards. It boasts 37 cm of ground clearance and up to seven meters of lift, with a high-performance 75 hp Perkins engine.
Depending on the type of terrain in question, this lift comes in both 2X and 4X drive. There is a wide range of different tyres and masts available for sale and hire depending on your unique rough terrain forklift needs.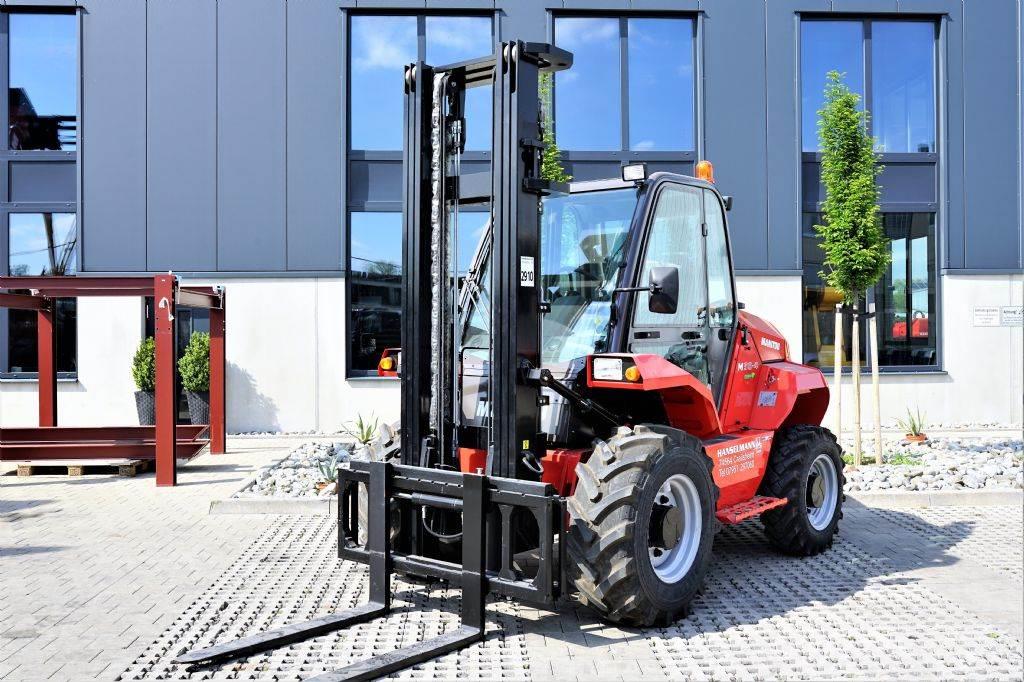 Manitou M40 Rough Terrain Forklift Sales & Hire
The Manitou M 40 is a sturdy, stable forklift with 35 cm of ground clearance and a powerful 75 hp engine. It can carry up to 4 tonnes at a time, making it ideal for construction.
The lift is built for maneuverability, with various tyres available and a choice between 2X and 4X drive. The bonnet opens to allow full access to the interior mechanics, making the forklift easy to maintain and repair.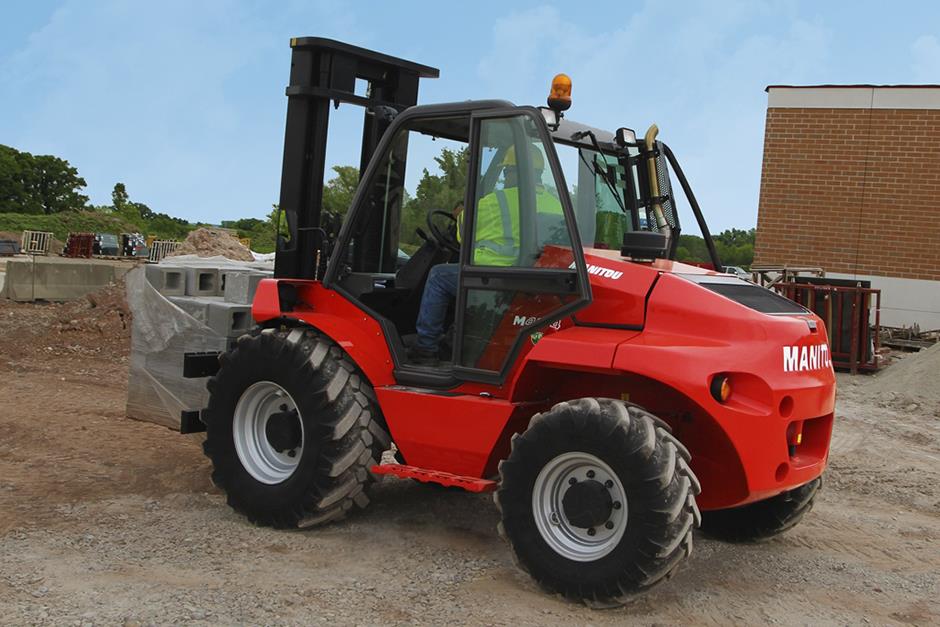 Manitou M50 Rough Terrain Truck Sales
Measuring slightly longer than other models, the M 50 comes in both 2X and 4X drive and a 75 hp engine. It offers 36 cm of ground clearance and a tight turning radius of 3.4 m for greater maneuverability.
Thanks to the larger size, the driver's cab is comfortable, spacious, and offers a full 360-degree view for improved safety.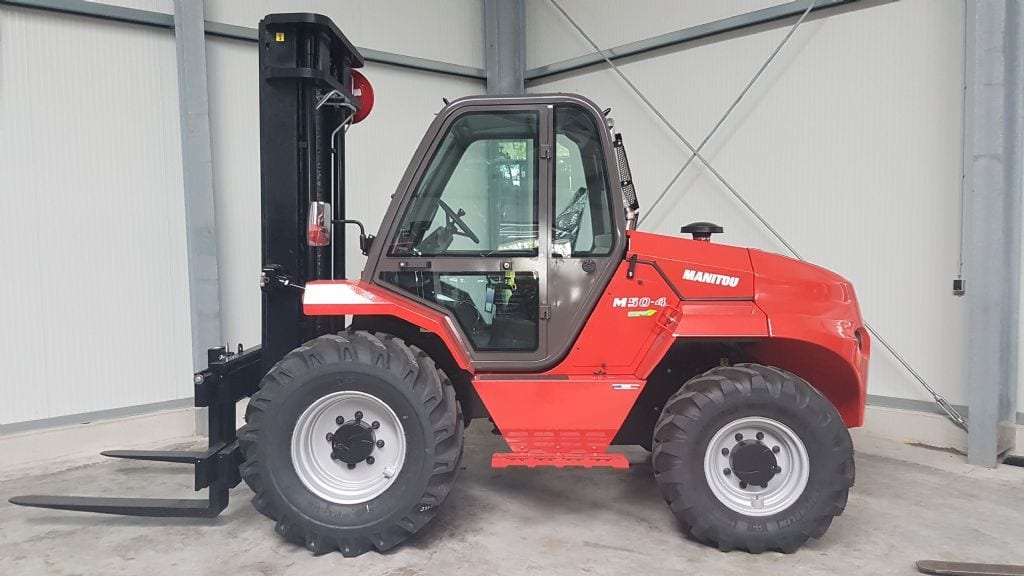 Manitou M70 Rough Terrain Forklift Truck Sales
The largest model of the M series, the M 70 is ideal for industrial applications. A powerful Deutz engine and hydrostatic transmission make it easy to control without sacrificing the 7,000 kg weight capacity.
Its oversized wheels work even on the most uneven terrain. This model only comes in 2X drive.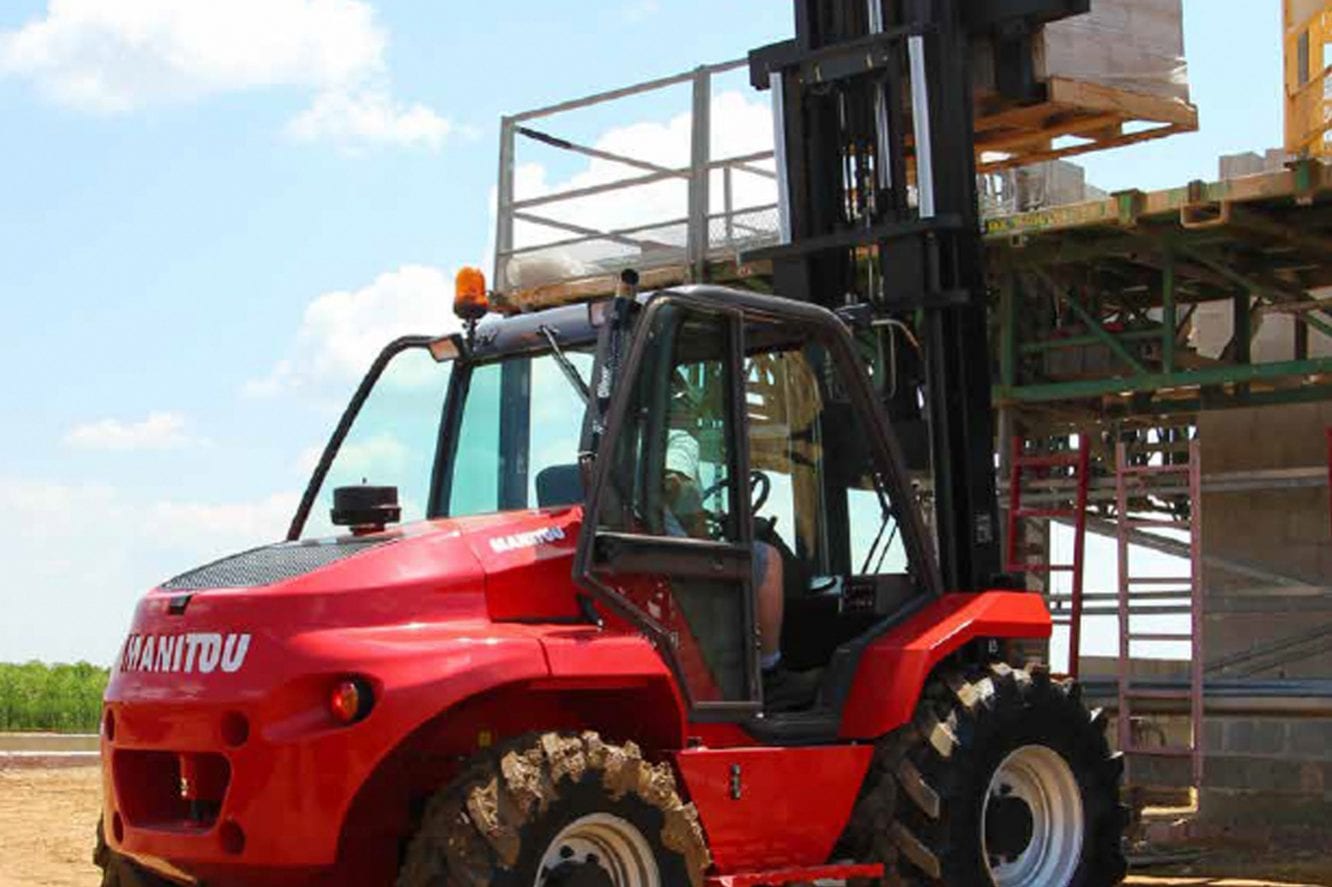 Manitou MI, MC & MSI Series
The Manitou MI series boasts interior combustion engines for easy maintenance and operation. Those concerned with their carbon footprint can opt for hiring or purchasing an electric engine rough terrain model with the Manitou ME series of forklifts.
The Manitou MC series also offers more compact vehicles for small business operations and personal use. Vehicles are smaller, easier to store, and use less fuel than similar models. Perhaps the most versatile rough terrain lifts for sale in the Manitou lineup come from the MSI series. These semi-industrial forklifts combine the smooth operation of a regular lift with the rugged versatility of a rough terrain model.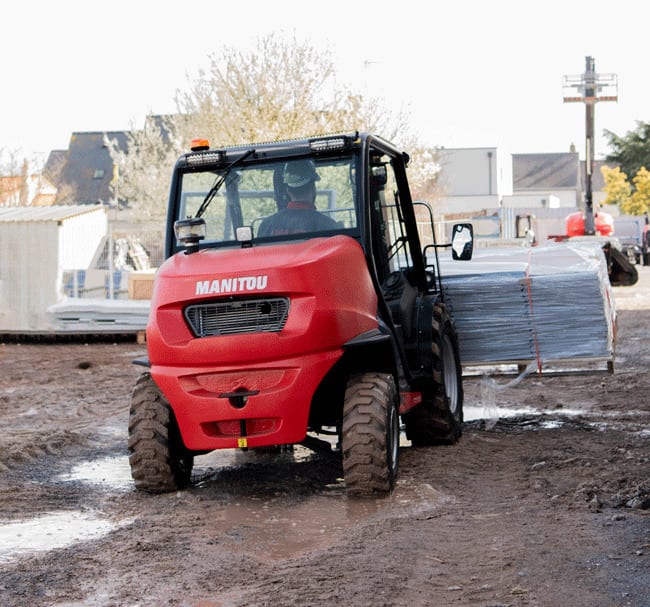 Why hire and buy Rough Terrain Fork Trucks?
As the name suggests, rough terrain (or all-terrain) forklifts are designed for rugged surfaces. Unlike standard forklifts, they can tackle sand, mud, and soft ground without an issue. A rough terrain forklift can also drive over uneven or rocky surfaces without getting stuck.
One of the main differences between a rough terrain forklift and a regular model is the tyres. Instead of standard road tyres, an all-terrain lift will have larger tractor tyres. These are more durable and offer deeper tread for better traction.
Rough terrain forklifts also have a higher ground clearance than standard lift trucks. This design allows them to move without the undercarriage getting stuck on rocks, roots, outcroppings, and more. Many 4 X 4 forklift trucks for sale and hire are considered rough terrain models.
A rough terrain lift is a Class 7 vehicle. The most common style of lift truck is the vertical mast, which lifts straight up and down. A variable reach lift boasts a telescoping boom for greater range and flexibility. When it comes to rough terrain forklifts for sale and hire within UK areas like Leicester, Northampton, Birmingham, Nottingham, Warwick, Derby, West Midlands, and East Midlands, businesses can also find easily portable truck and trailer mounted options.
Our team of expert engineers is trained to repair and service all of our heavy equipment at a moment's notice. Technicians are located across the country to guarantee quick and convenient repairs. We always have a fully stocked parts department in the event of a breakdown as well as competitive rates, while also hire forklifts all across Leicestershire, Nottinghamshire, Birmingham, Northamptonshire, Warwickshire, Derbyshire, West Midlands & East Midlands.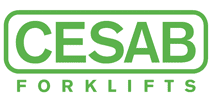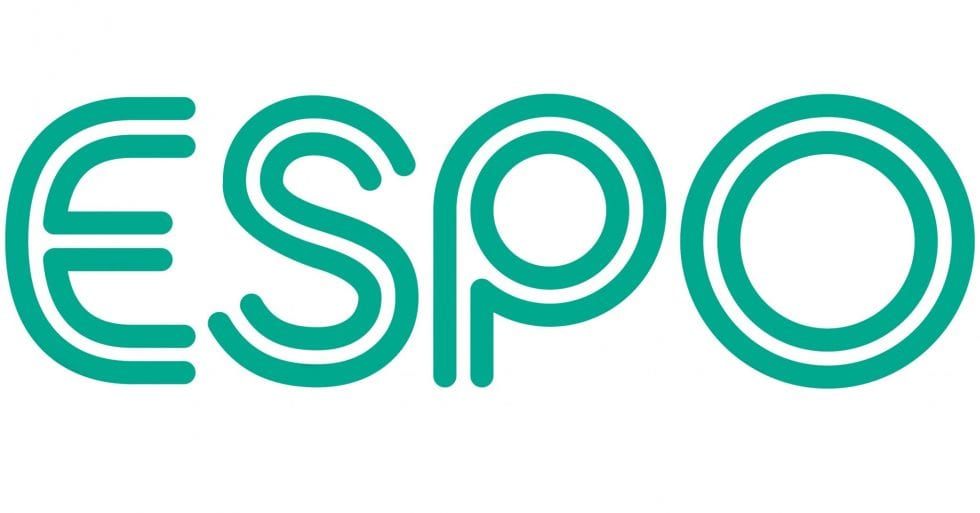 ESPO is a local authority purchasing and distribution consortium, supplying a huge range of workplace products, from food, furniture and hardware to stationery and vehicles, to the education sector and other public and private organisations.

Nylacast is a leading manufacturer of low-weight. low-friction polymers and award-winning solutions for safety-critical applications, with over 530 employees based at six sites around the world. The company's Leicester operation Includes Nylacast Automotive.
Areas We Serve
Angus Lift Trucks has over 35 Years of experience in forklift sales, hire, service & training across Leicestershire, Derbyshire, Northamptonshire, Nottinghamshire, Warwickshire, West Midlands and East Midlands.
Leicestershire
Leicester, Blaby, Charnwood, Harborough, Hinckley, Market Bosworth, Melton Mowbray, Oadby & Wigston
Nottinghamshire
Nottingham, Ashfield, Bassetlaw, Broxtowe, Gedling, Mansfield, Rushcliffe, Newark, to name just a few.
Warwickshire
Warwick, Atherstone, Bedworth, Kenilworth, Leamington Spa, Nuneaton, Rugby, Shipston-on-Stour, Southam, Stratford-upon-Avon, etc.
Birmingham
Digbeth, Erdington, Edgbaston, Harborne, Moseley, Solihull, and many more.
Northamptonshire
Brackley, Corby, Daventry, Desborough, Higham Ferrers, Kettering, Northampton, Rushden, Towcester, Wellingborough, and many more.
Derbyshire
Derby, Matlock, Ripley, Ashbourne, Ilkeston, Swadlincote, Burton-on-Trent, Buxton, Chesterfield, Draycott, to name just a few.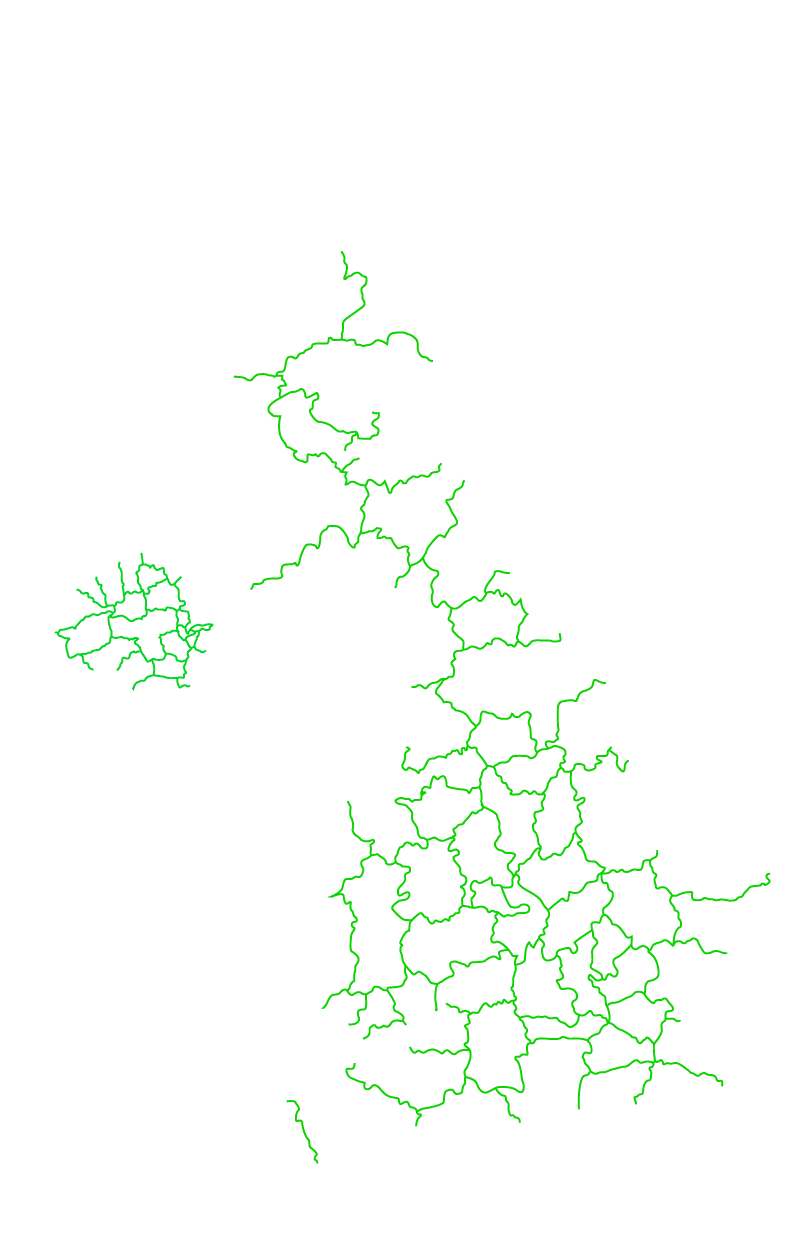 Our Forklift Services across UK
In addition to rough terrain forklift sales and hire in areas like Leicester, Northampton, Birmingham, Nottingham, Warwick, Derby, West Midlands, and East Midlands, we offer the following forklift services across the UK:
No matter what type of rough terrain forklift you're looking for sale and hire within the UK, we've got you covered. For those looking to buy Manitou rough terrain forklifts, UK businesses can turn to Angus Lift Trucks. We're here to supply high-performance, all-terrain lift trucks that help smooth over day-to-day operations and improve your bottom line.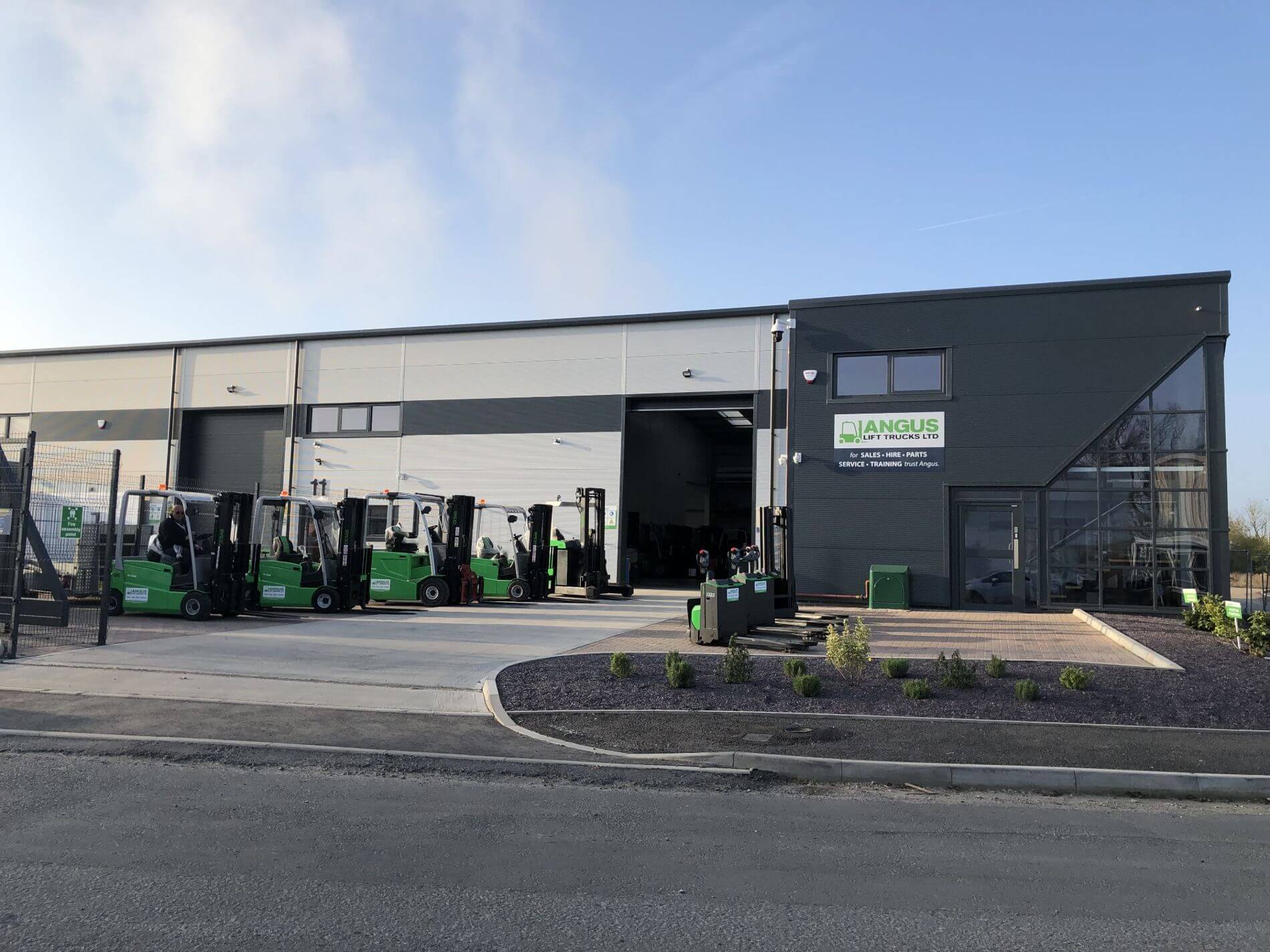 FAQs
Please see answers to some of the most common questions on hiring and buying rough terrain fork trucks
Rough terrain Forklift Truck Hire Near Me
You can buy or rent rough terrain forklift trucks from anywhere in the UK by contacting one of our Angus Lift Trucks offices. Offices are located in the following locales:
Warwickshire

Birmingham

Leicestershire

Derbyshire

Northamptonshire

Nottinghamshire

West & East Midlands
Our customers can count on us for delivery of rough terrain forklifts directly to the job site. Have an extended agreement term? Delivery is free. 
How much does it cost to hire a rough terrain forklift in UK?
To buy or rent rough terrain forklift trucks in the UK, you can expect prices to vary. The cost of the unit depends on the length of your agreement, the model of the rough terrain forklift, and other variables. For a more precise estimate, we invite you to request a quote online or call one of our offices.
What are rough terrain forklifts used for?
In the Uk, rough terrain forklifts are sold and hired mainly for construction sites and other off-road terrains:
Loading

Lifting

Transporting materials
What is a rough terrain forklift truck?
Rough terrain forklifts are forklift machines developed for work on uneven ground. Unlike standard forklift models made for concrete warehouse floors, rough terrain forklift trucks are bought or hired due to their ability to remain stabilized on rocky roads and broken concrete.