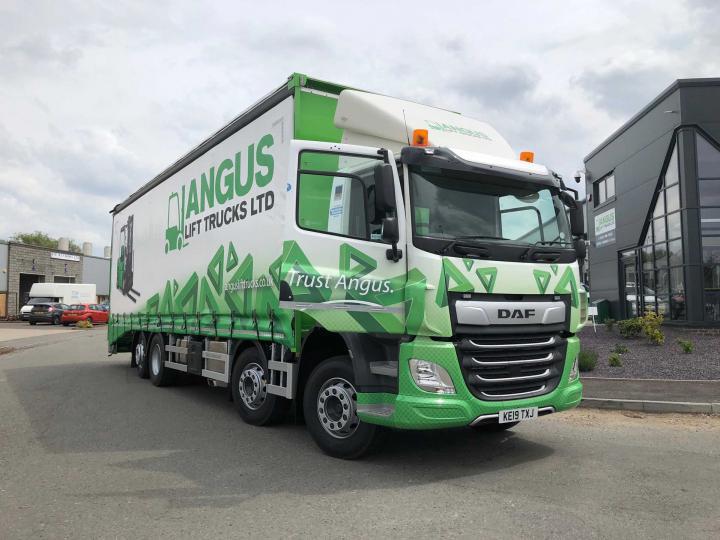 Why Angus Lift Trucks?
As the premier forklift truck company servicing UK, we provide excellence in forklift sales and hire including powered stacker trucks, training, service, and maintenance. With an extensive range of material handling equipment available, we have a variety of powered stacker trucks for sale and hire and make it our goal to meet our customers' needs.
The same standards apply to all our used and new powered stacker truck sales and rentals throughout the UK, both used and new. We are an approved distributor of Cesab forklifts and can deliver convenient financing options to meet your needs.
At Angus Lift Trucks, we offer both new and used powered stacker trucks for sale and hire across the UK in the West and East of Midlands, from Leicester, Nottingham, Northampton, or Birmingham, to Derby and Warwick, to name just a few. This allows us to provide flexible pricing and meet a wide array of budget requirements. Peruse our selection today to see what we have in stock.
CESAB S100 Stacker Trucks for Sale & Hire
Like all CESAB equipment, this stacker truck model is designed to maximize maneuverability, safety, reliability, and an ideal purchase across applicable industries. The CESAB S100 powered stacker truck is an excellent hire and buy option for low-intensity operations for your projects in areas like Leicester, Northampton, Birmingham, Nottingham, Warwick, Derby, West Midlands, and East Midlands. It weighs under 500 kg and offers a compact design for movement within quite small spaces. Likewise, its small size emits very little noise. As tiny as it is, the S100 is actually very powerful. It boasts impressive durability and strength, and its AC motor provides top-notch energy efficiency.
Buy and hire powered stacker trucks for your UK projects with Angus to enjoy optimal safety with the automatic electric brake.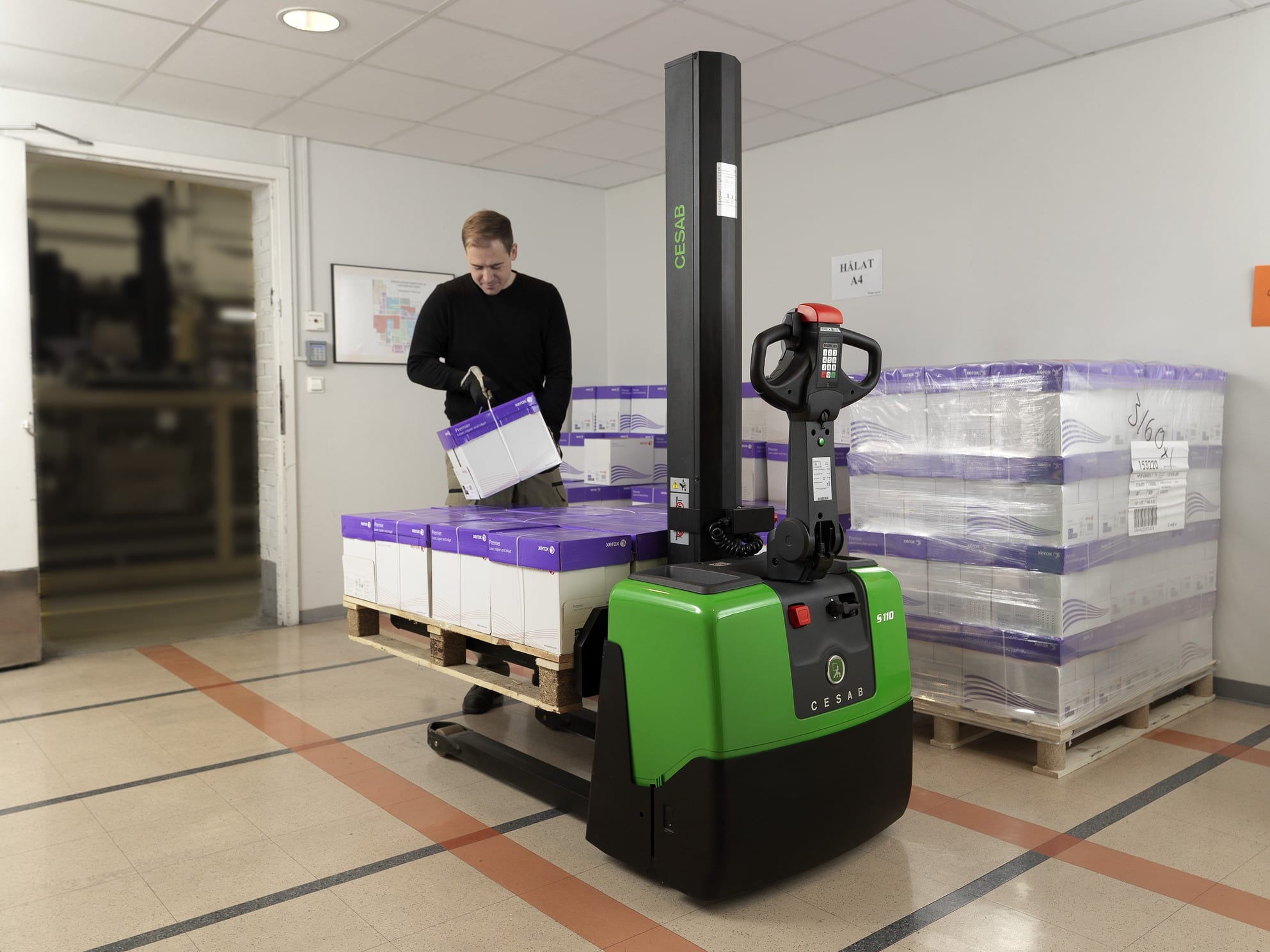 CESAB S200 Powered Stacker Truck Sales & Rentals
Hire or buy CESAB powered stacker trucks across the UK with Angus and explore our new selection of mid-range options. We have the new CESAB S200 powered stacker truck for sale and hire at all our UK facilities, which offers operators medium-intensity power.
The S200 hosts a 5-point chassis design that ensures high levels of stability and control. Even on slanted ramps and uneven floors, this stacker truck forklift delivers a splendid performance, making it an ideal buy or rental for a wide range of industries. Users can easily manoeuvre tight spaces with a compact design, small turning radius, and central tiller arm. Adaptable functions allow for a customized experience per driver, allowing for effortless pallet handling.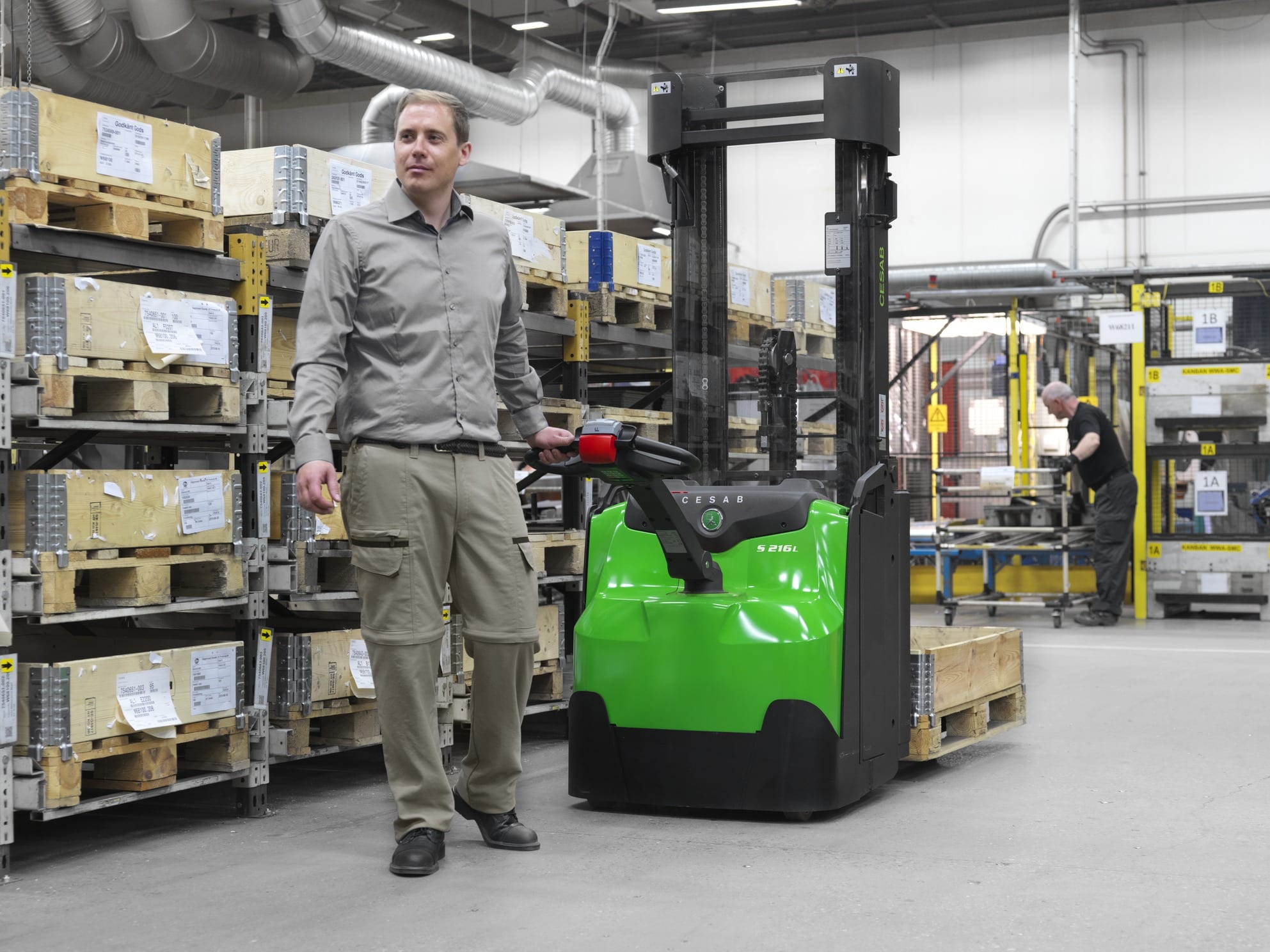 CESAB S300 Stacker Trucks for Sale & Hire
Where truly superb maneuverability and maximum productivity are necessary, you can hire or buy CESAB stacker trucks at all our UK facilities. At Angus, we offer new CESAB S300 stacker truck sales and rental all over the UK.
The versatile S300 is ideal for handling high capacities while additionally providing easy control, precise movement, and reliable programmability. With speeds up to 10 km/h, it offers best-in-class turning, traction and stability.  The foldable driver platform transforms this truck into a pedestrian truck. In this setting, the S300 can navigate the tightest of spaces. This powered stacker model is a perfect purchase or hire for more demanding environments.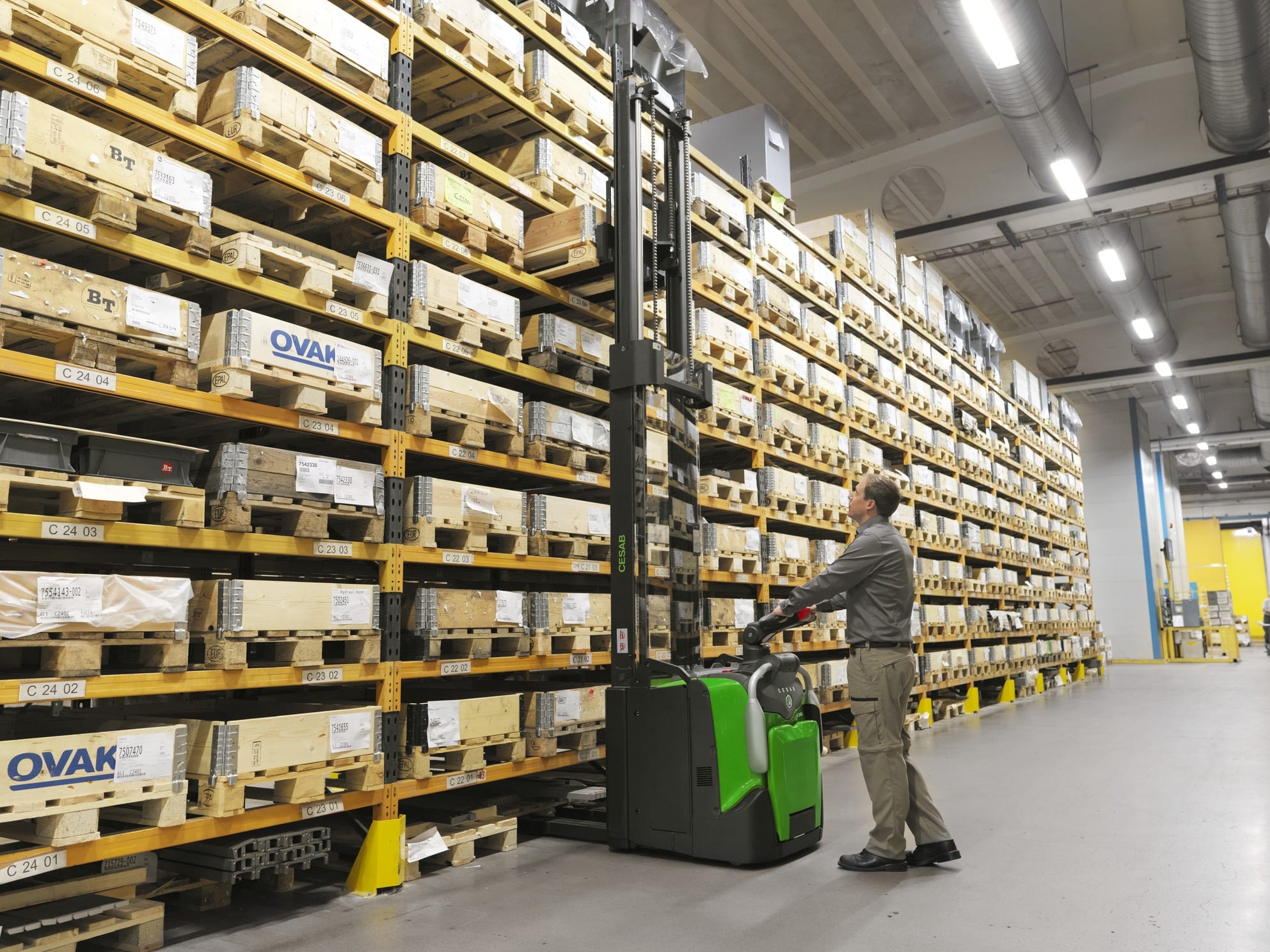 Why Hire and Buy Stacker Trucks?
Powered stacker fork trucks are irreplaceable tools across a variety of industries and are popular among warehousing applications. First and foremost, they make it easy to move heavy materials from place to place. When considering powered stacker trucks for sale and hire in the UK, it's critical to explore all of the advantages and benefits that come with using these machines for your projects in areas like Leicester, Northampton, Birmingham, Nottingham, Warwick, Derby, West Midlands, and East Midlands.
Low Pollution
Due to powered stacker trucks using electricity over gas or diesel, they do not emit CO2 gases. Electric vehicles do not contribute to pollution, making them safer for your workplace and better for the environment. Not only do these electric vehicles help minimize the overall global pollution crisis, but they also offer a cleaner, healthier surrounding for your employees as well.
Minimized Noise
Warehouse operations are already disruptive and noisy. And usually, the more vehicles and equipment you add to a warehouse, the louder it becomes. Thankfully, when you hire or buy powered stacker trucks, they are virtually noise-free. Their compact size offers the great benefit of quietness compared to large and in-charge diesel engines.
Less noise can be as simple as a mere convenience to some, but it's also essential to minimizing the eardrum damage of the crew members who operate these machines.
It can also clear up noisy distractions that can contribute to work-related injuries and accidents.
Reduced Heat
Other large machinery, such as gas-powered, large forklifts, emit tons of heat through fuel combustion. This heat may not seem significant, but it quickly dissipates and disperses throughout enclosed spaces, such as in warehouses where they are frequently used. High levels of heat are not only uncomfortable, but they can heat surfaces that lead to burns.
The small, electric-powered stacker trucks we have on sale and rent only consume the energy that they need to operate, so they don't send out heat waves to their surrounding area.
Fuel doesn't leave the vehicle while idling, and they don't have scalding exhaust pipes that can lead to injury.
Used Stacker Truck Sales & Hire, UK
At Angus Lift Trucks, we offer a wide range of used powered stacker truck sales and hire within the UK. Buying and renting second-hand stacker trucks allow you to stay within your budget with a guarantee of high quality.
Hire and buy used stacker trucks from our UK-wide inventory, which regularly includes popular brands such as Hyster, Yale, and CESAB to name just a few. While our inventory is always changing, you can check back in to see if we have what you need in stock.
In the past, we have sold Caterpillar NR20 Reach Trucks, Toyota Staxio SWE140 Pedestrian Stackers, and CESAB P320 Powered Pallet Trucks. These models and more come entirely conditioned, cleaned, checked, serviced, and freshly painted.
When you hire and buy pre-owned stacker trucks from Angus Lift Trucks, you're not just purchasing a piece of equipment but also peace of mind. All of our vehicles come with our guaranteed thorough examination to make you feel as comfortable and confident in your equipment as we do.
Likewise, you can also rest easy knowing our company is an accredited Fork Lift Truck Association Member and is a CESAB Approve Distributor for a variety of forklift equipment we sell and hire including powered pallet stackers. Many of the powered stacker truck models we sell and rent come set with additional equipment, all of which have been thoroughly inspected and approved by licensed professionals.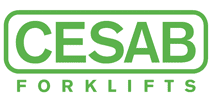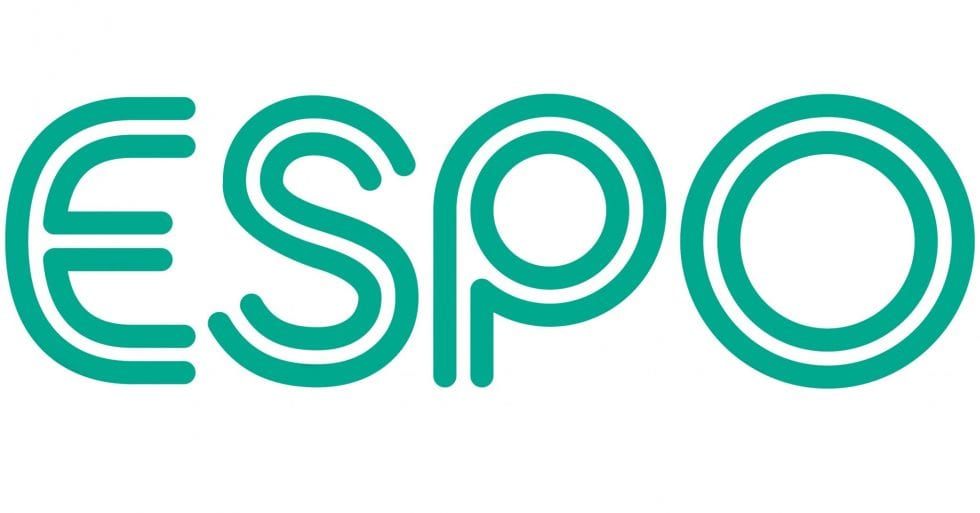 ESPO is a local authority purchasing and distribution consortium, supplying a huge range of workplace products, from food, furniture and hardware to stationery and vehicles, to the education sector and other public and private organisations.

Nylacast is a leading manufacturer of low-weight. low-friction polymers and award-winning solutions for safety-critical applications, with over 530 employees based at six sites around the world. The company's Leicester operation Includes Nylacast Automotive.
Areas We Serve
Angus Lift Trucks has over 35 Years of experience in forklift sales, hire, service & training across Leicestershire, Derbyshire, Northamptonshire, Nottinghamshire, Warwickshire, West Midlands and East Midlands.
Leicestershire
Leicester, Blaby, Charnwood, Harborough, Hinckley, Market Bosworth, Melton Mowbray, Oadby & Wigston
Nottinghamshire
Nottingham, Ashfield, Bassetlaw, Broxtowe, Gedling, Mansfield, Rushcliffe, Newark, to name just a few.
Warwickshire
Warwick, Atherstone, Bedworth, Kenilworth, Leamington Spa, Nuneaton, Rugby, Shipston-on-Stour, Southam, Stratford-upon-Avon, etc.
Birmingham
Digbeth, Erdington, Edgbaston, Harborne, Moseley, Solihull, and many more.
Northamptonshire
Brackley, Corby, Daventry, Desborough, Higham Ferrers, Kettering, Northampton, Rushden, Towcester, Wellingborough, and many more.
Derbyshire
Derby, Matlock, Ripley, Ashbourne, Ilkeston, Swadlincote, Burton-on-Trent, Buxton, Chesterfield, Draycott, to name just a few.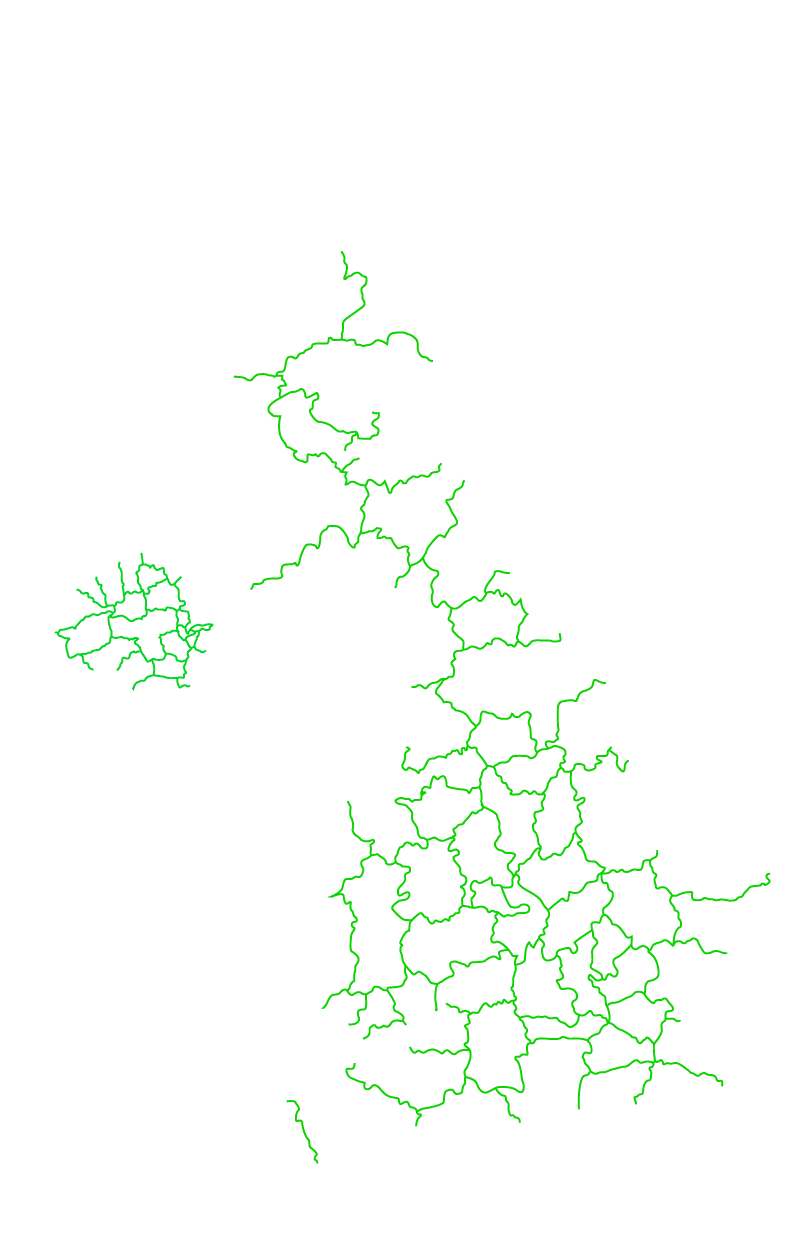 Our Forklift Services across UK
In addition to powered stacker truck sales and hire we offer the following forklift services across the UK, in areas like Leicester, Northampton, Birmingham, Nottingham, Warwick, Derby, West Midlands, and East Midlands:
Visit our website at any point to check the used and new powered stacker trucks we have for sale and hire in the UK. Our used forklifts inventory page will offer you insight into what we have in stock, along with details about each model. Simply click below each picture to enquire today.
Of course, our stock changes all the time and we encourage you to get in touch with our professional should the pallet stacker you need is not available for sale or hire…our stock changes every time, and it is very likely that we can meet your needs. If you are looking to hire we offer options across the Midlands, in Leicestershire, Nottinghamshire, Birmingham, Northamptonshire, Warwickshire, Derbyshire, West Midlands & East Midlands.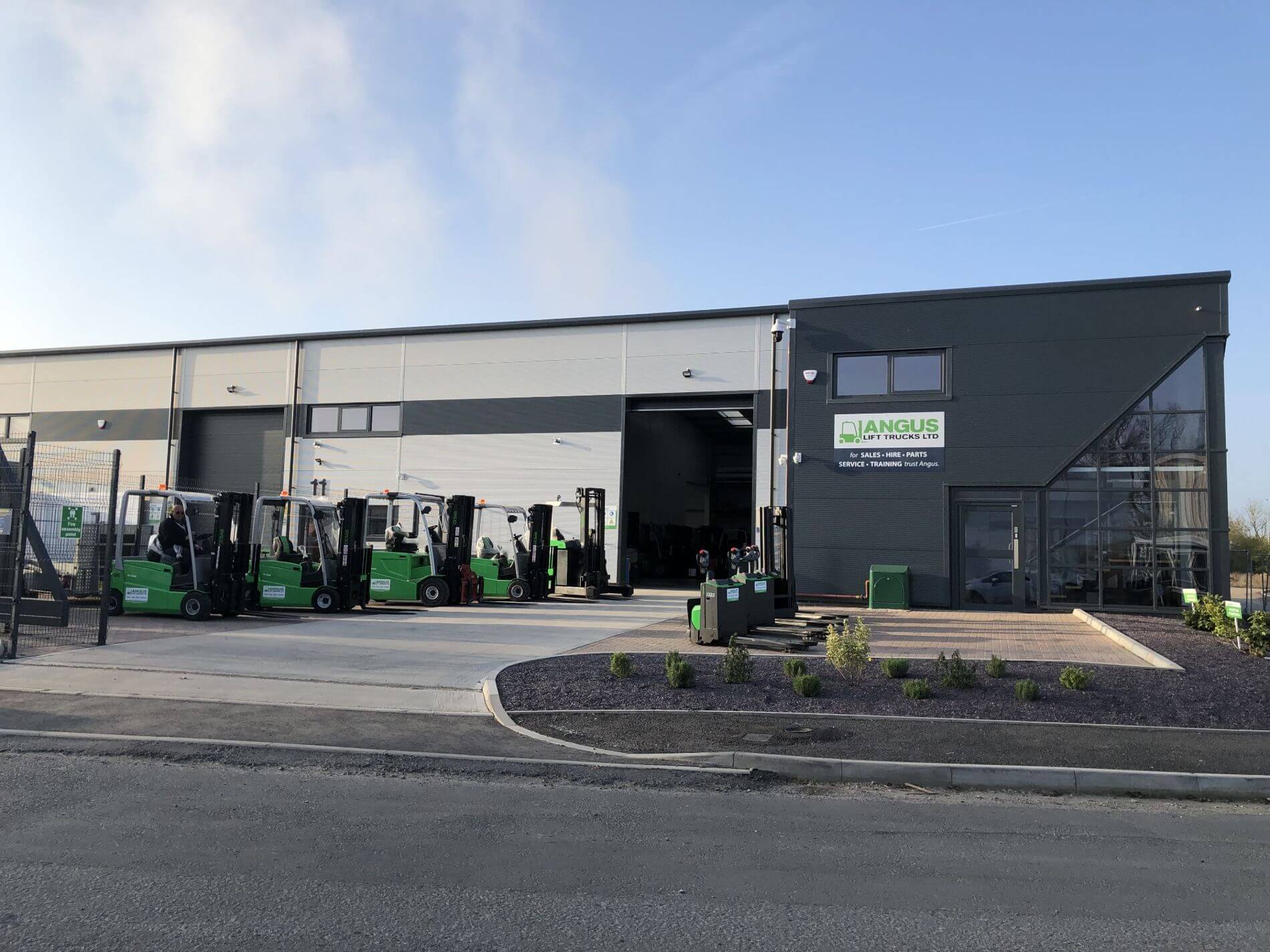 FAQs
Below are answers to some of the questions we are most often asked by clients looking for stacker truck sales & hire
Stacker Truck Hire Near Me
For clients hoping to buy or rent stacker trucks, we offer stacker truck hire services across the UK, serving the following areas:
Derby area

Warwick area

Nottingham area

Leicester area

Birmingham area

Northampton area
When you choose our stacker trucks for sale & hire in the UK, Angus Lift Trucks will deliver to the above regions. Delivery is free for clients with long-term stacker truck hire contracts.
How much does it cost to hire a stacker truck in UK?
The cost for stacker trucks for sale & hire in UK varies by the size of the unit, and the length of your agreement. We recommend contacting us by phone or requesting a quote online for a customized cost outlook.
What are stacker trucks used for?
When you buy or rent stacker trucks, they can be used for several tasks, including:
Lifting loads on and off of warehouse shelves

Stacking inventory

Transporting pallet loads

Navigating narrow aisles to retrieve packages
Stacker trucks are reliable and easy to use, making them an excellent tool for a variety of manufacturing, storage, and delivery uses.
What is a stacker truck?
Stacker trucks are small electric stacker material handling tools, similar to fork trucks. They are used to lift and retrieve heavy loads that shouldn't be carried manually.