When looking for a forklift or lift truck for sale or for hire, you may feel overwhelmed to discover the many varieties that exist. With each having a different purpose, it may seem daunting to find the perfect one. By comparing the various applications, advantages, and drawbacks of each machine, you can decide the most suitable option for your job.
Keep reading to learn more about all types of forklifts and how they can serve you.
Counterbalance Forklifts
Counterbalance forklifts have a fork in the front and a weight in the back to provide stability. They are primarily designed for indoor use, but many have outdoor capabilities. There are 3-wheel, 4-wheel, and gas-powered varieties available. The electric options are usually considered Electric Motor Rider Trucks, whereas the gas ones are Internal Combustion Engine Trucks with solid or pneumatic tires.
3-Wheel Electric Counterbalance
3-Wheel Electric Counterbalance forklifts operate with only three wheels, which improves their navigational control.  They can turn in narrow circles while also travelling through tight aisles and production lines. Most models have a 3,000 lb, or 1,360 kg, capacity.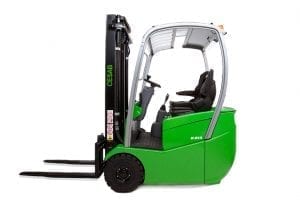 The applications of 3-Wheel Electric Counterbalance forklifts include indoor and outdoor use and load racking. The counterbalance aspect means they are highly productive, and the manoeuvrability offers versatility.
3-Wheel Electric Counterbalances are most commonly used in the food, beverage, and manufacturing industries. The top manufacturers include CESAB, Crown, Mitsubishi, and Toyota.
4-Wheel Electric Counterbalance
An extension of the 3-Wheel Electric Counterbalance is the 4-Wheel. These warehouse forklifts are often used indoors and in superstores. The 4-Wheel Electric Counterbalance also has a 3,000 lb, or 1,360 kg, capacity.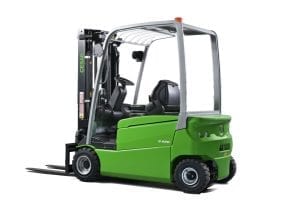 Since they are electric, they require a lighter counterweight than gas-powered ones as the battery supplies the power and provides stability. 4-Wheel Electric Counterbalance forklifts can move to the precise racking location because they lack outrigger arms.
The base design only has the forklift, but you can often find options with driver cabs, side shifts, and mast tilt mechanisms. Common applications include beverage plants.
Gas-Powered Counterbalance
Another form of counterbalance forklift is the Gas-Powered Counterbalance. The standard options are electric, but gas and diesel varieties have their advantages. If you would prefer to save on your electric bill and do not have the facilities to recharge a battery regularly, then you may benefit from a Gas-Powered Counterbalance forklift.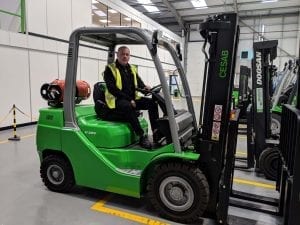 These counterbalances are pretty much the same as the 3-Wheel and 4-Wheel varieties, but they require a heavier counterweight since they do not have a battery to provide stability. You can use them in the same situations as other counterbalance forklifts as long as you have the necessary supply.
Electric vs. Gas
Make sure to weigh the fuel costs of gas and electric forklifts. Gas forklifts burn cleaner than petrol and diesel, you can buy them from most vendors, they have low maintenance costs, and they are powerful and reliable in outdoor conditions.
On the other hand, electric options are environmentally friendly, quiet, applicable outdoors, indoors, in food processing plants, and in storage facilities, they provide better stability and manoeuvrability, they have lower fuel costs, and they are simple to repair. However, the batteries can take a long time to recharge and you will need a battery charging and swapping station.
Rough Terrain
Rough Terrain forklifts are excellent choices if you plan on working outdoors on uneven land. They have massive, pneumatic tires that are inflatable with thick threads. The tires offer stability on any surface, no matter how challenging.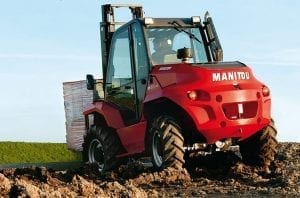 Rough Terrain forklifts have more powerful engines than indoor ones, which helps them travel faster. They have solid traction and manoeuvrability, letting you transport loads reaching 8,000 lbs (3,630 kgs) over snow, mud, and ice.
These forklifts have a calibrated counterbalance on their backside to add more stability. Some popular models are the CASE 588H and JCB 950. Many options have four-wheel drive capabilities as well.
The Rough Terrain class includes forklifts such as Telescopic Handlers, Off-Roaders, Truck Mounters, Tractors, Wheel Loaders, and Skid Steers. We will go into more detail about some of these options.
Telescopic Handler
The Telescopic Handler, or Telehandler, has an articulating boom and extendable arm. It can lift loads to high elevations because it functions as a combination of a forklift and crane. The arm has twin forks that can move pallets weighing between 5,500 and 16,755 lbs (2,500 to 7,600 kgs). Their lifting capacity ranges from 19 to 56 feet (6 to 17 metres).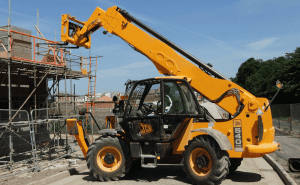 Telescopic Handlers can reach tight spaces at unusual angles, making them ideal for the construction and agricultural industries. Many sites have turned from standard Rough Terrain forklifts to Telehandlers for this reason.
You can access both sides of a delivery truck with one side, increasing the Telehandler's efficiency. They are a bit unreliable at times due to their complex design and enormous size. Also, they are more expensive than their alternatives.
Popular Telescopic Handler manufacturers are Genie, Bobcat, and Caterpillar.
Off-Roaders
Off-Roaders are used in the construction and agriculture industries. They are used to carry heavy loads on muddy terrain in unincorporated regions. They usually have diesel fuel and massive tires.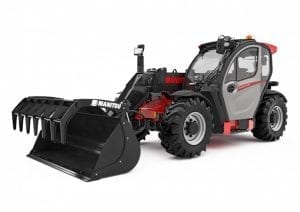 Truck Mounter
Truck Mounters are generally attached to semi-truck trailers. They are sometimes referred to as piggyback forklifts because of their portability and use anywhere that they can be deployed. Similar varieties include box-mounted and trailer-mounted forklifts.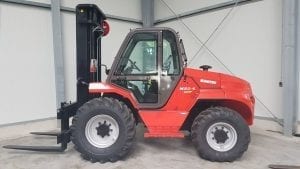 These are most useful for applications where you will need to travel between locations frequently. Due to their compact size, they have relatively small lifting capacities.
Tractor
Tractor forklifts are tractors with forklift masts on the front or back. They are similar to Off-Roaders for smaller loads, and they are primarily used by farmers. The operator can switch between using it as a tractor or forklift depending on their needs.
Wheel Loaders
Wheel Loaders often have bucket attachments, but you can also find them with straight masts or plain forks. They have a giant size that gives them a larger load capacity than some of the other Rough Terrain forklifts.
Skid Steers
Skid Steers are similar to Wheel Loaders and Telescopic Handlers as they can function with many different attachments other than forks. The operator will not need to purchase multiple machines to get the same functionality as they can replace the front attachments as necessary.
Narrow Aisle
Narrow Aisle forklifts are a class that can operate in tight spaces. They are often used for racking in warehouses without needing to expand the aisle size. These have small designs and often require the operator to stand while using them, but there are some sit-down varieties.
The Narrow Aisle forklift class includes Reach Trucks, VNAs, and Pivot Steers.
Reach Trucks
Reach Trucks are usually used in fulfilment centres and warehouses because of their ability to load in high, narrow spaces. They reach into shelves to store more products in the racking, which saves money and conserves space. There are single and double reach varieties.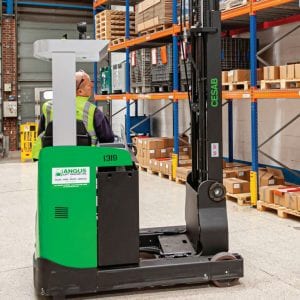 Reach Trucks have forward extending forks and stabilized legs to quickly pick pallets indoors. They have open compartments to provide the operator with more visibility than a standard forklift.
Unfortunately, these forklifts are not fit for the outdoors as they have an under-carriage clearance. Popular manufacturers include Yale and CESAB.
VNAs
Very Narrow Aisle trucks, or VNAs, handle loads in the most limited spaces. They have powerful engines and drives that let the forklift lift and move at once, saving you time in your narrow warehouse.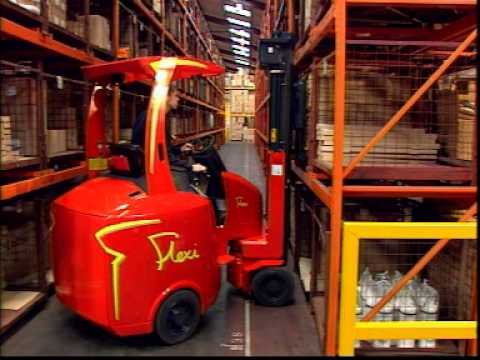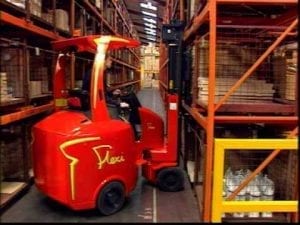 The lifting capacity reaches about 3,300 lbs (1,500 kgs). Many manufacturers, like Linde, strive to provide extra visibility to improve the safety conditions of a narrow warehouse.
Pivot Steers
Pivot Steers have masts that can turn right or left without moving the body. They allow the operator to keep their truck facing forward as they reach to the side with the forks. They are similar to articulated forklifts, except the tires do not move on Pivot Steers.

Pallet Trucks
There are three types of Pallet Trucks: Hand Pallet Trucks, Power Pallet Trucks, and Stacker Trucks. The operator walks behind them and steers them with a handle as they do not come with cabs.
Hand Pallet Trucks
Hand Pallet Trucks are usually found in stores and warehouses. The operator pushes the forks under the pallet, pumps a hydraulic jack that raises the fork, and moves the weight using handles. They are small and portable, with little danger to the operator. The front wheels go into the forks and separate from them as the fork raises.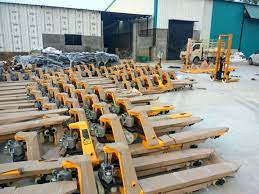 Hand Pallet Trucks are convenient and affordable, but you get what you pay for. They can only transport small loads at the ground level, and they have minimal height. However, you get what you pay for.
CESAB supplies some of the most common Hand Pallet Trucks.
Power Pallet Trucks
Power Pallet Trucks lift and move loads with an electric motor rather than a pumped hydraulic jack. They have limited manoeuvrability, but they can lift loads higher than Hand Pallet Trucks. Power Pallet Trucks have a paddle control to lift the forks and direct the truck. Like other Pallet Trucks, they are used inside on smooth surfaces in stores or warehouses.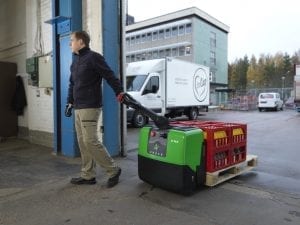 Stacker Trucks
Stacker Trucks are another form of Pallet Truck that do not have cabs or power. Their advantage over Hand Pallet Trucks is that they lift the loads much higher. They are tall and narrow for shelving in warehouses. Popular manufacturers are CESAB, Toyota, Hyster, and Jungheinirich. Some models can carry 4,000 lbs (1,810 kgs).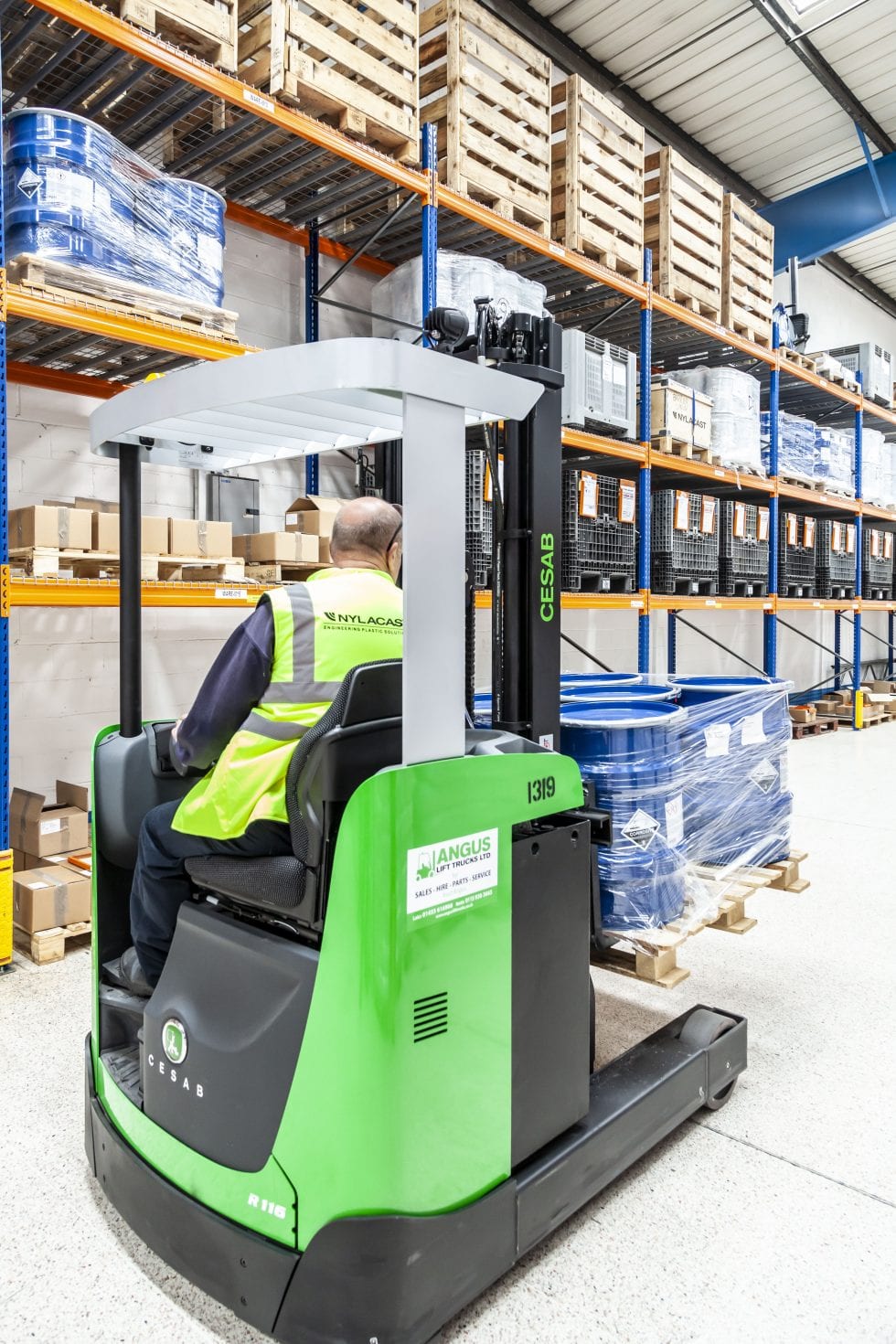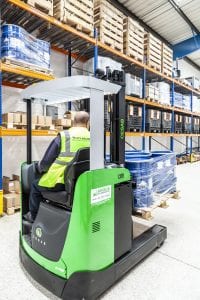 Side Loaders
Side Loaders often fall under the Narrow Aisle and Specialty Forklift categories. They have forks on their sides, and the operator stands on a side compartment as they load and unload cargo. The mast is mounted between the chassis.
These vehicles work well in narrow aisles as they can drive alongside a rack to shelve goods without turning. Other applications include steelyards, junkyards, lumber yards, and recycling facilities.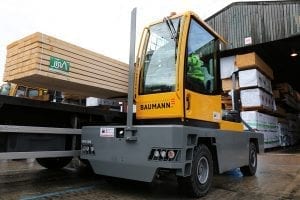 This machine combines the functionality of a truck and a forklift. Side Loaders can handle longer objects than most forklifts, like timber, piping, and sheets. However, they struggle to handle a lot of pallets because of their limited manoeuvrability.
Some of the most used brand is Baumann, which Angus Lift Trucks is a dealer for.
The three types of Side Loaders are the Multi-Directional Truck, Enclosed Cab, and Stand-Up Cab.
Multi-Directional Truck
In a Multi-Directional Truck, the operator can drive side-to-side and forward and back. It operates with a switch control rather than a steering wheel, and it helps when handling long loads. It is more versatile than a typical Side Loader as you can drive it in any direction.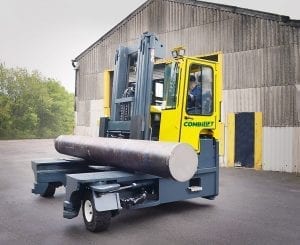 Some Multi-Directional Forklifts let you steer a wheel in 90-degree increments. No matter what type you use, you can drive effectively in all directions, and they are relatively easy to service too. Combilift is the most well-known producer of Multi-Directional Trucks.
This style has applications to other forklifts as well. For instance, you can have a multi-way telescopic forklift. They usually work inside and out, but the load capacity depends primarily on the brand and model chosen.
Enclosed Cab
The Enclosed Cab Side Loader is designed for outdoor work. You are protected from the sun with a roof and can sit down while operating it.
Stand-Up Cab
The Stand-Up Cab Side Loader works best indoors on smooth surfaces. You will need to stand while operating it, and it is not enclosed.
Cherry Pickers
Cherry Pickers let the operator pick materials by hand from the racks. They pull the forklift beside the racking and lift themselves to grab the needed item. These are a form of Power Pallet Truck and Narrow Aisle forklift as they require manual labour and are generally used indoors.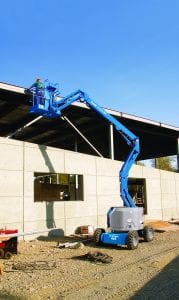 Cherry Pickers bring the user or unit to heights of about 32 feet (10 metres) where they can transfer small loads. They are usually used in customer order warehouses as they transport a small selection as necessary. Cherry Pickers provide excellent visibility to their operator because of their open window.
A popular manufacturer of Cherry Pickers is Genie.
Swing-Reach Cherry Picker
Standard Cherry Pickers have fixed forks that go into or out of pallets. Swing-Reach Cherry Pickers differ as they can approach the pallet from various angles. They increase the storage space of a facility because the warehouse workers can pack more inventory into tighter aisles while still fetching it.
Scissor Lifts
Scissor Lifts are often used in construction and facility maintenance, depending on the type. Terrain Scissors work similarly to Rough Terrain forklifts as they can handle the uneven ground. Slab Scissors work best on smooth grounds like a warehouse floor or concrete slabs.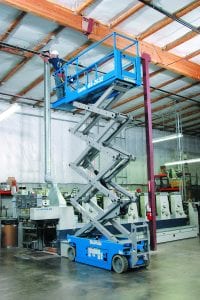 Scissor Lifts are compact and easy to store. Most vendors sell them at an affordable price, and they have a small learning curve to handle. You only need to command them up or down. Scissor Lifts come in tons of sizes and you can customize them with extra accessories. They also have a low maintenance cost.
This machine lifts the user up, similar to a Cherry Picker, so they can perform work where needed. They do not reach the same heights as Cherry Pickers, but they are commonly used due to their accessibility.
Cherry Picker vs. Scissor Lift
Both Cherry Pickers and Scissor Lifts are attractive options for lifting workers and micro loads. If you only need to lift someone to a moderate height and do not have a staggering budget, you may benefit most from a Scissor Lift. For those who need to reach greater heights and have some excess capital, a Cherry Picker could match your needs.
Both have applications in outdoor events, the agricultural industry, entertainment, construction, manufacturing, and warehouses. The biggest difference is their height limit, so choose the one that matches your projected lifting capacity.
Weather-Resistant Forklifts
If your forklift will experience extreme temperatures and conditions, you may wish to consider an Explosion-Proof or Cold Storage forklift.
Explosion-Proof
Explosion-Proof forklifts are a necessity if you are continually exposed to the threat of an explosion. A standard forklift could combust, putting you and your coworkers at risk. An Explosion-Proof forklift has sealed electrical components to prevent combustion, and all metal parts are bronze, which is a non-sparking material.
If you work in a sugar mill, ordinance facility, or paint factory, you may wish to invest in an Explosion-Proof forklift.
Cold Storage
Cold Storage forklifts resemble standard forklifts, but they have components that resist frozen water. Once the temperature drops below 0°C, the machinery experiences ice and condensation. Some sensitive electrical components could damage from exposure to such temperatures, so Cold Storage forklifts seal all parts to prevent rust formation.
Some brands manufacture the models using stainless steel in high-salinity regions, such as meat processing plants.
Industrial vs. Warehouse Forklifts
An Industrial Forklift has a large capacity from its combination design of a Warehouse Forklift and Telescopic Handler. It can lift heavy loads much higher off the ground than Warehouse Forklifts, but not at the same angle as Telescopic Handlers.
Industrial Forklifts usually have a 30,000 lb (13,600 kg) load capacity. They are pricey and have a limited scope as few jobs call for this amount of power. Manitou and Mitsubishi are two famous manufacturers of Industrial Forklifts.
The typical Warehouse Forklift is the most common form. It has a 5,000-lb (2,270-kg) capacity and works on smooth surfaces indoors. Warehouse Forklifts resemble golf carts with frontal forks, and they are often used in places with lots of inventory. They can easily load and unload pallets, and you can use them to transport items from other vehicles.
Common Warehouse Forklift brands are CESAB, Komatsu, Hyster, and Toyota. They cannot lift pallets as high as some other varieties, but they are widely available and applicable to most indoor jobs.
Conclusion
There are countless types of forklifts available, each with different applications. Depending on your industry, budget, and environment, you may wish to use a specific form. Make sure to consider the type of fuel you wish to use, whether you are usually indoors or out, the roughness of the terrain, the aisle width, and the operator's skill set. One of the above forklift types should accommodate your needs as none are wholly better than another.
In conclusion, if you are confused or require more information on the various types of forklifts that will best serve your projects, do get in touch with our team at Angus. We have over 35 Years of Experience in the Forklift industry, and serve the entire Midlands in Leicestershire, Nottinghamshire, Northamptonshire, Birmingham, Warwickshire, Derbyshire, East Midlands & West Midlands.
This post is also available in:

Français

Deutsch

Italiano

Português

Español

Български

Hrvatski

Eesti

Latviešu

Lietuvių

Polski

Português

Русский

Slovenčina

Slovenščina

Türkçe

Українська

Albanian

Čeština

Dansk

Nederlands

Ελληνικά

Magyar

Română