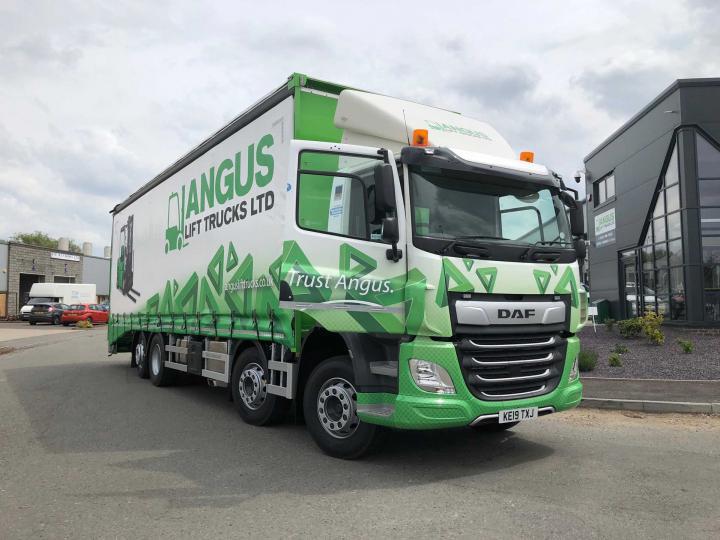 Why Angus Lift Trucks?
Angus Lift Trucks specializes in forklifts for sale in Leicester area, and across the UK. We understand that people have different needs and budgets, so we offer a wide range of new and used forklifts. Our company stands out in the lift truck market for its 35 years of experience, and we are an approved CESAB forklift distributor too.
Whether you're looking for a forklift truck for sale in Leicester and across Leicestershire, or a powered pallet truck, our expert team is ready to support you. In addition to new and used forklifts, we also offer lithium-ion forklift options. Where there's innovation in the forklift industry, we are there.
Should you wish to finance your forklift, our staff will be happy to help. We offer several flexible finance options to ensure that you don't have to compromise on buying the best-suited forklift for your Leicestershire and UK project needs.
Our Forklift Range
We have a diverse range of new and used forklifts for sale in the UK including LPG, diesel and electric counterbalance forklift trucks, pallet trucks, stacker trucks, and reach trucks & warehouse equipment.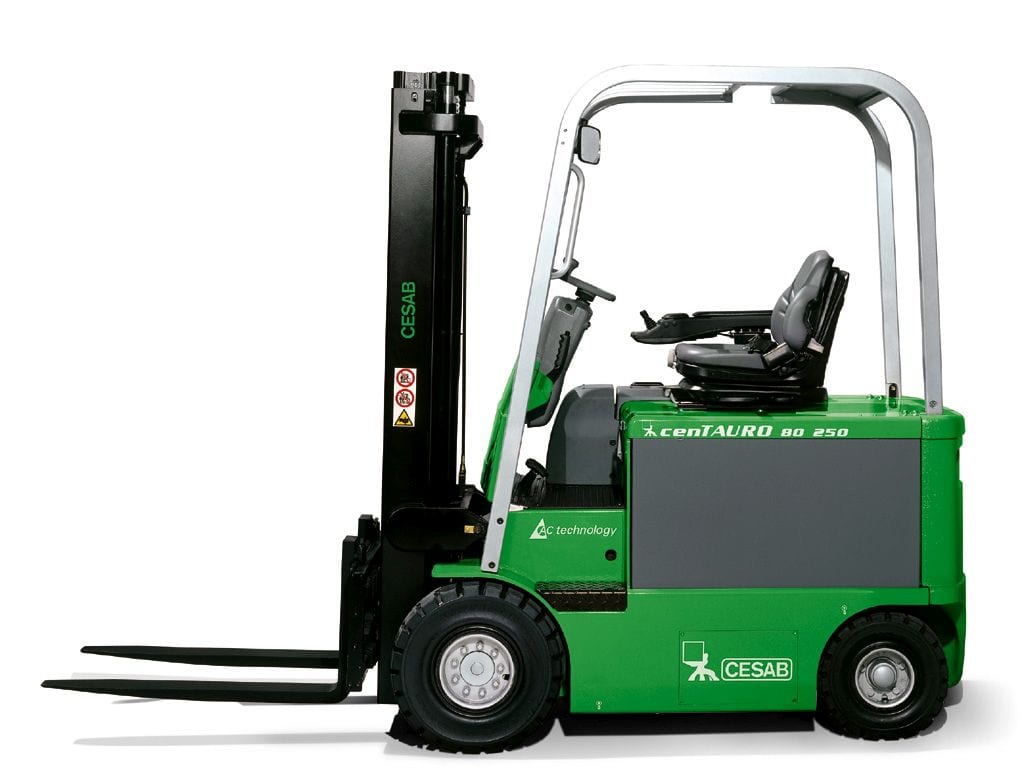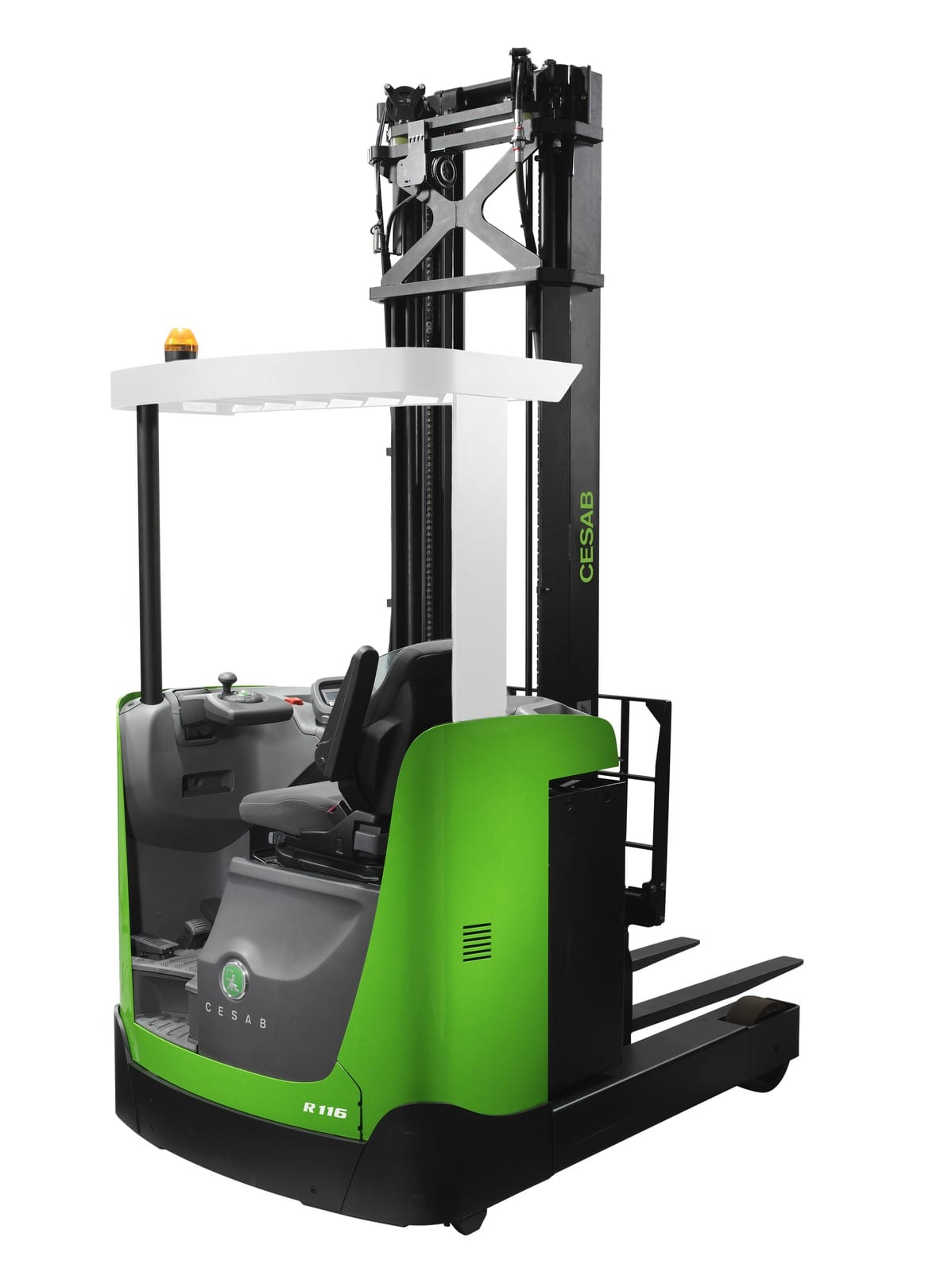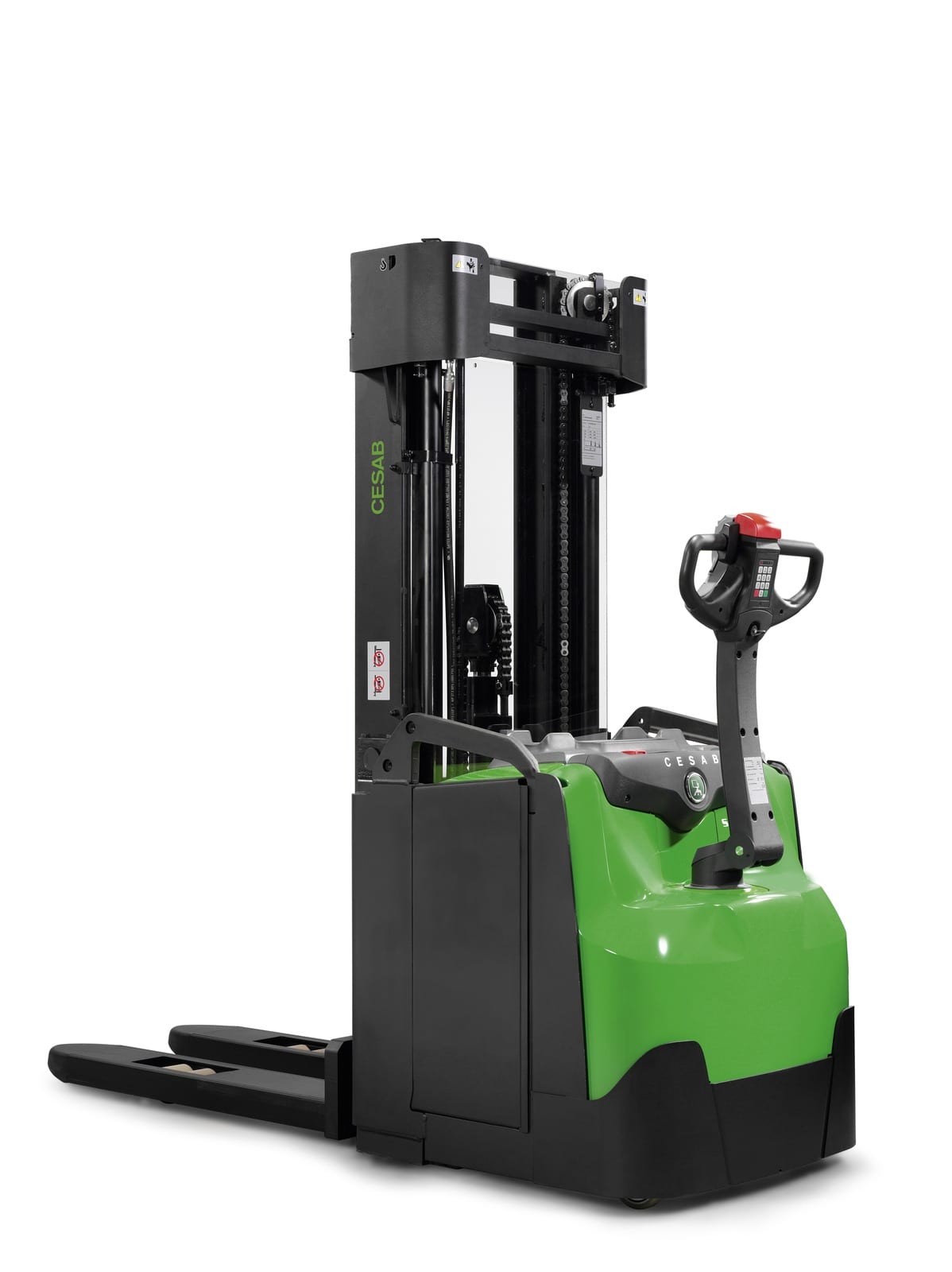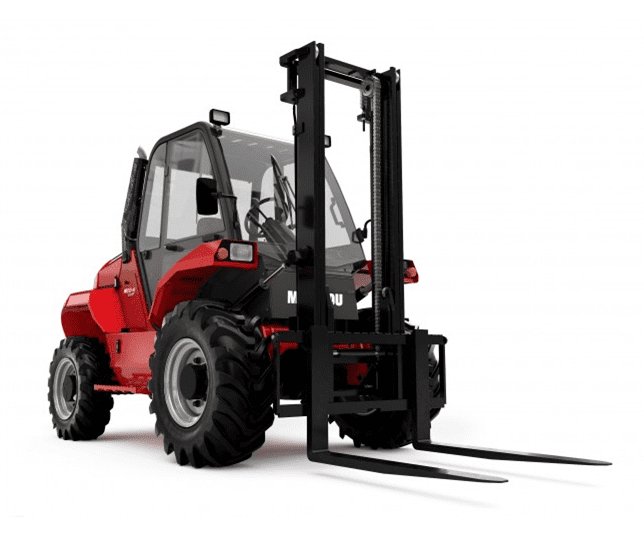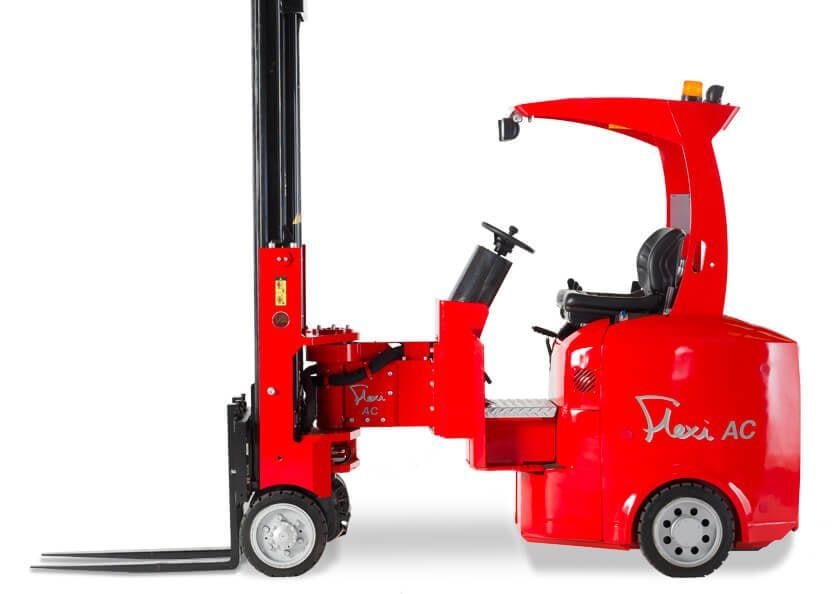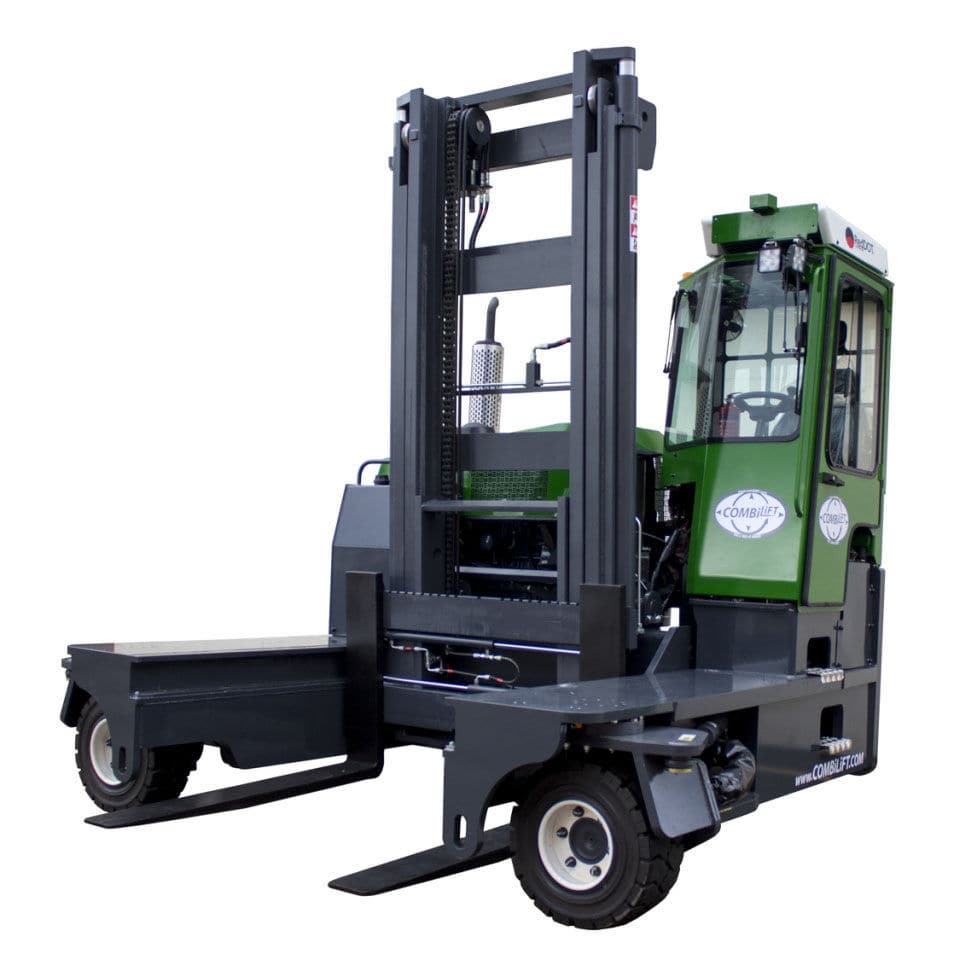 Multi Directional Forklifts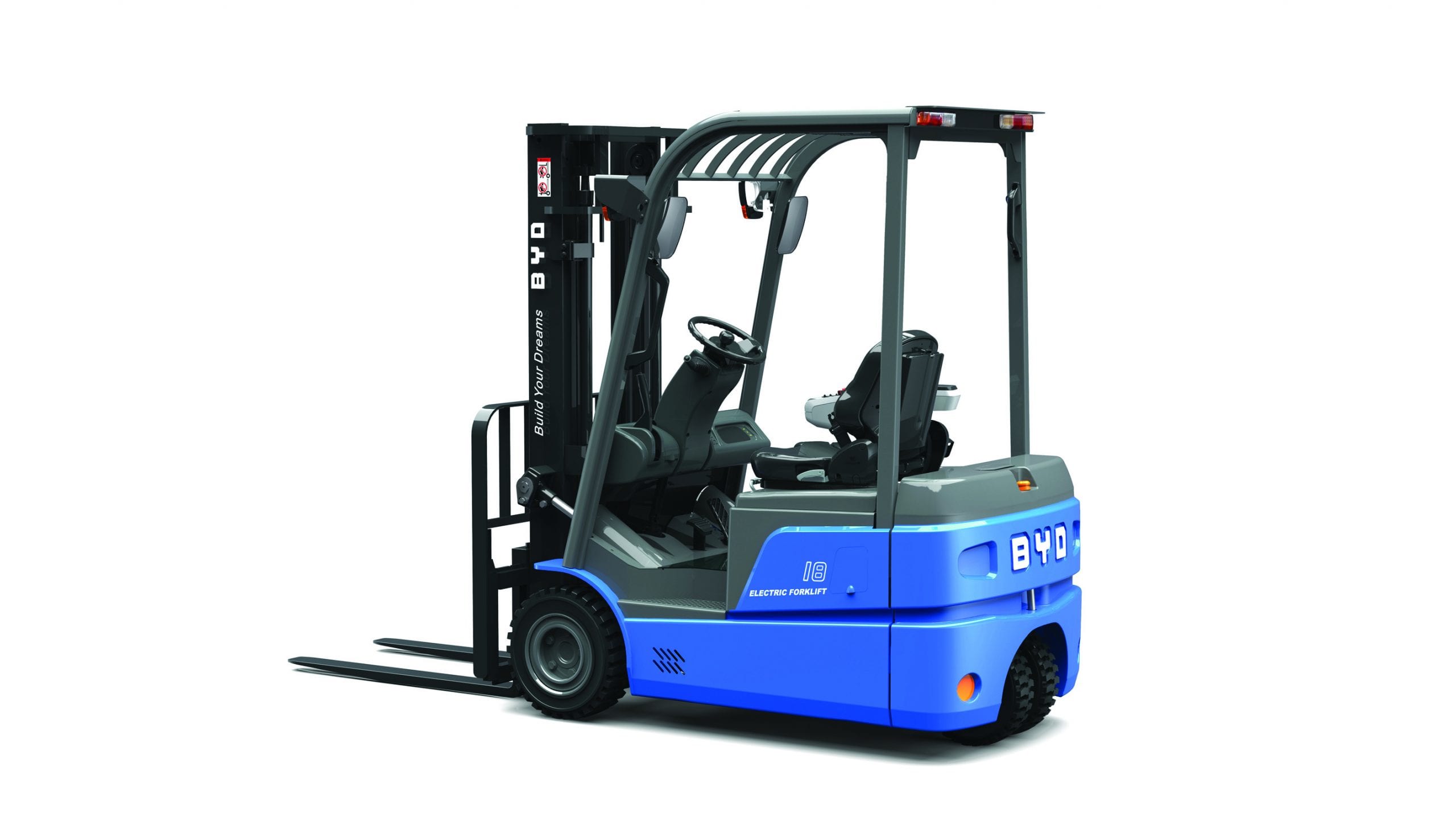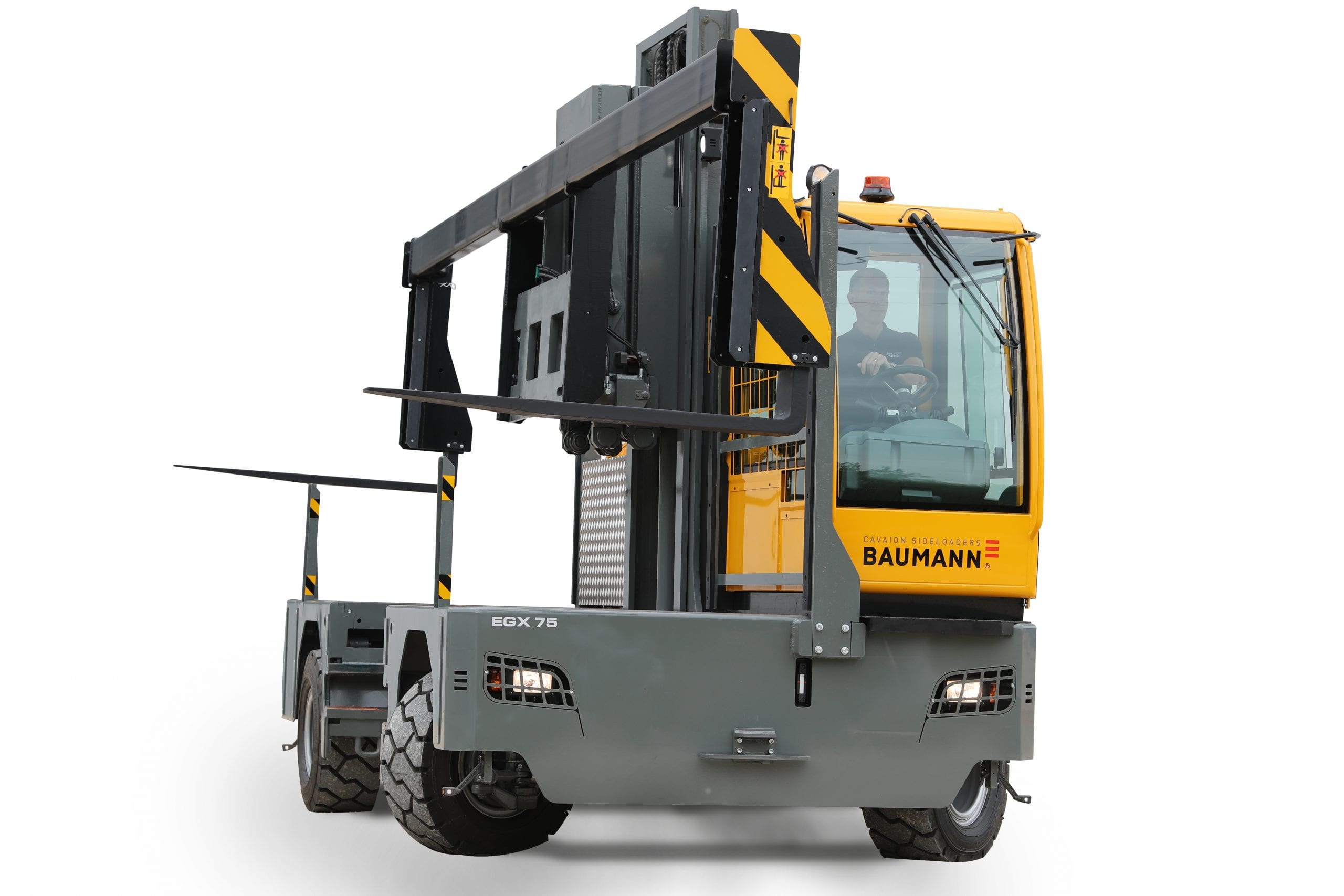 Counterbalance Forklifts for Sale in Leicestershire
If you need to buy counterbalance forklifts in Leicester, we have you covered. At Angus Lift Trucks, we sell three-wheel, four-wheel, and engine trucks for safe transportation and productivity.
You can opt to purchase a three-wheel forklift if you need a small turn radius for your warehouse. Or, if you're working outside in Leicestershire, you can get an engine truck for maximum capacity and toughness. A four-wheeler is right in the middle, making it perfect for carrying heavy loads indoors.
In any case, all of our forklifts have optimized comfort, safety, and capacity. Their cockpits make it comfortable for operators to adjust their positions and estimate carrying loads accurately. Take a look at our selection of counterbalance forklifts available for sale in Leicester, and you can trust your work is in good hands.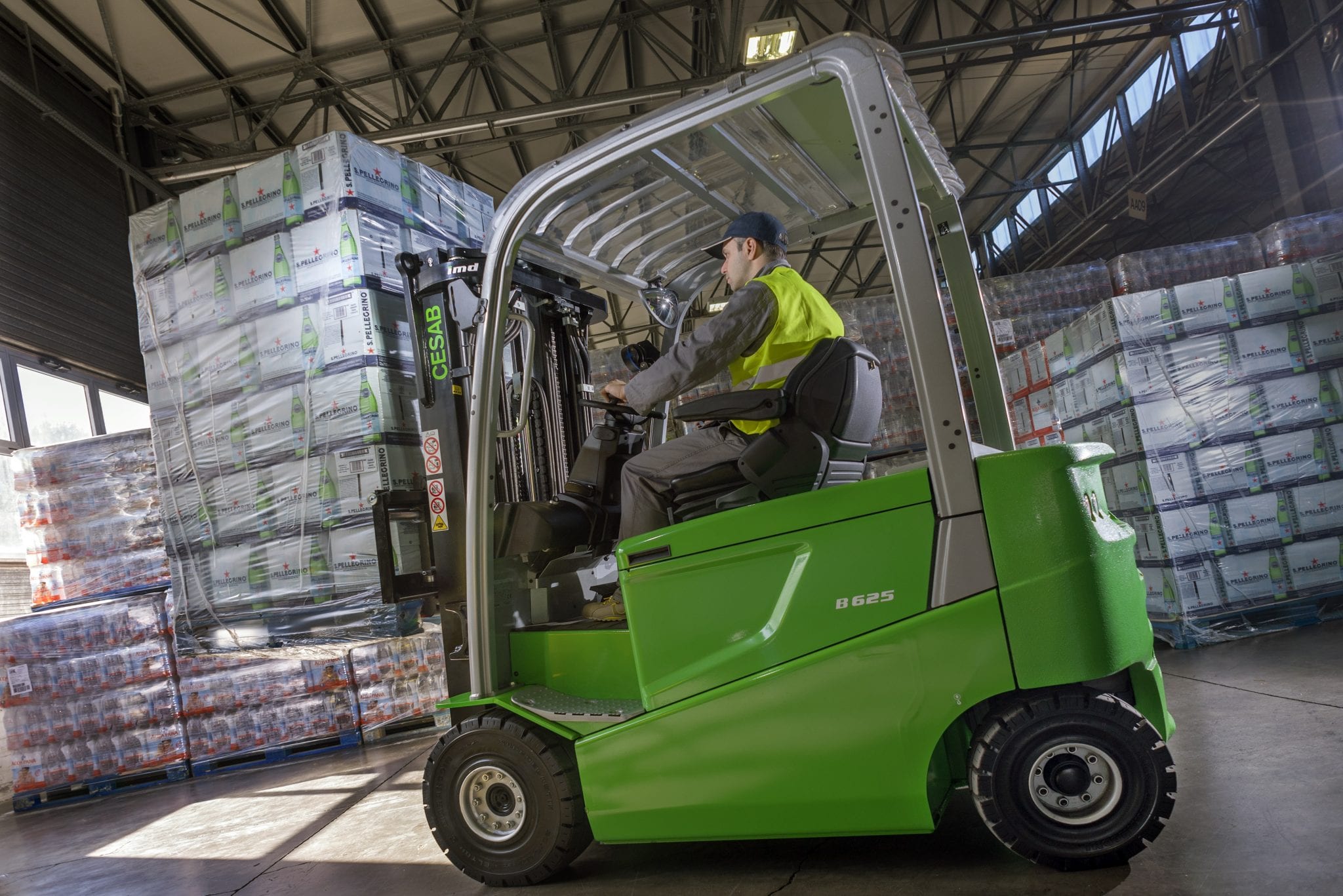 Reach Truck Forklifts for Sale in Leicestershire
If you're looking for a CESAB reach truck forklift for sale in Leicester and across Leicestershire, we carry several models. All have an intelligent design to increase productivity, offer excellent handling, and have modern safety amenities.
People needing a small height lift of no more than 8.5 meters should consider purchasing the R100. As a clever reacher truck, this is a good fit for basic applications. If you need a step up, CESAB's R200 has an ultra-narrow design, making it great for stacking in narrow spaces. Finally, the R300 will elevate your reach truck needs since it's a high-speed piece of equipment that's sturdy to ensure safety for you and your goods.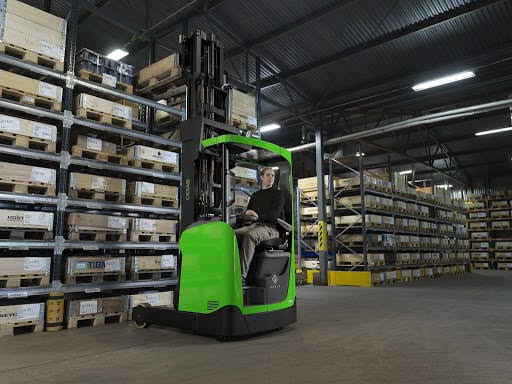 ​Powered Stacker Truck for Sale in Leicester
Power stacker trucks are useful for various industries, including warehouses and retail stores. If you're searching for a CESAB powered stacker forklift truck for sale in Leicester and across Leicestershire, Angus can support you.
Depending on the weight and intensity of your applications, you can choose from three CESAB stacker truck models. The S100 is for low-intensity activities and packs a punch with an energy-efficient AC motor. The S200 offers more power for medium-intensity applications, with outstanding stability, including on uneven surfaces. If you need maximum power and speed, the S300 drives as fast as 10 km/h and has a foldable driver platform.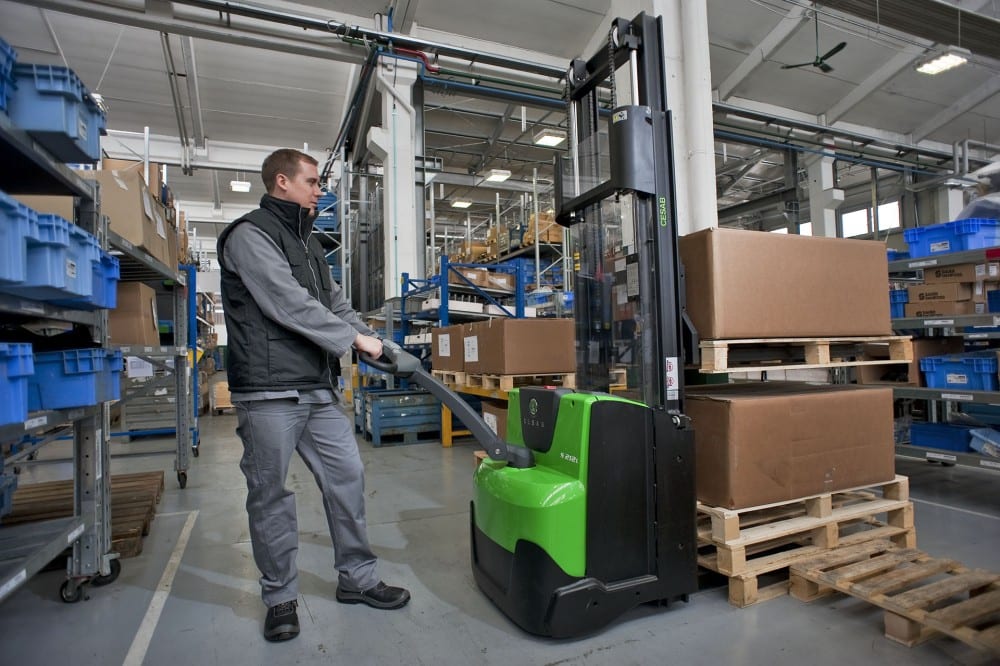 Powered Pallet Trucks for Sale in Leicestershire
From wholesale to distribution, powered pallet trucks are a necessity for many businesses. People seeking a CESAB powered pallet truck for sale in Leicester will encounter four model varieties, one of which is the P216i—a new Li-ion low lifter.
Of CESAB's traditional pallet trucks, you can choose from a P100, P200, or P300 model. The P100 weighs a mere 255 kg. It has a compact chassis, making it a great option for using inside trucks and shops. If you have horizontal transport needs, its ergonomic tiller arm is ideal for this. For heavy material and long-distance trips, the P300 offers excellent performance. It has a folding platform and Powerdrive, which provides stability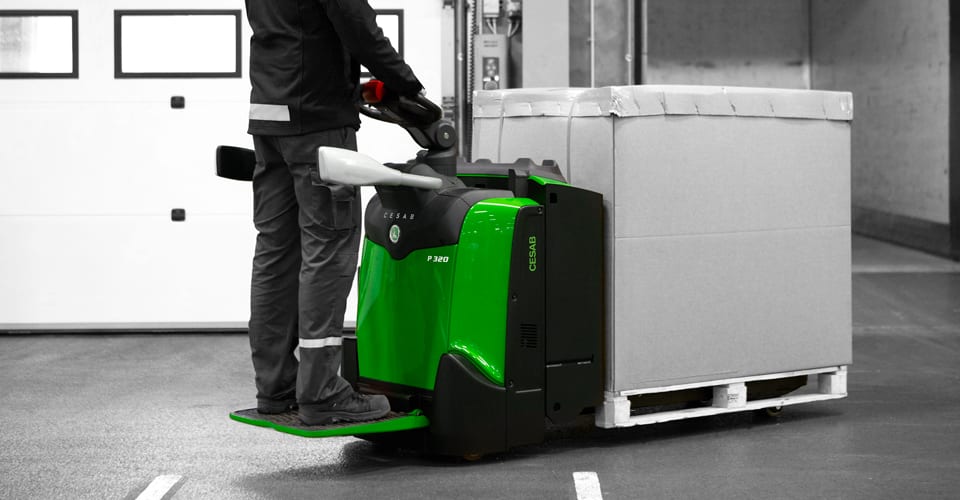 Flexi Forklift for Sale in Leicester
If you operate a warehouse or other facility where you want to maintain narrow aisle space to maximise your storage, Flexi forklifts are a great buy option. If you're searching for narrow Aisle Flexi articulated forklifts for sale in Leicester, you'll have electric and gas forklift options to choose from.
Safety is a top priority of Flexi's articulated forklift trucks. Flexi forklifts have a "True Radius" design which makes the forklift sturdy while stacking. Their very narrow aisle (VNA) design helps improve pallet capacity by up to thirty per cent. Despite its high-quality build, the inevitable moment will come when you need to replace an equipment part. Flexi designs their narrow aisle forklifts using common components, so it's easy and cost-efficient for you to repair them.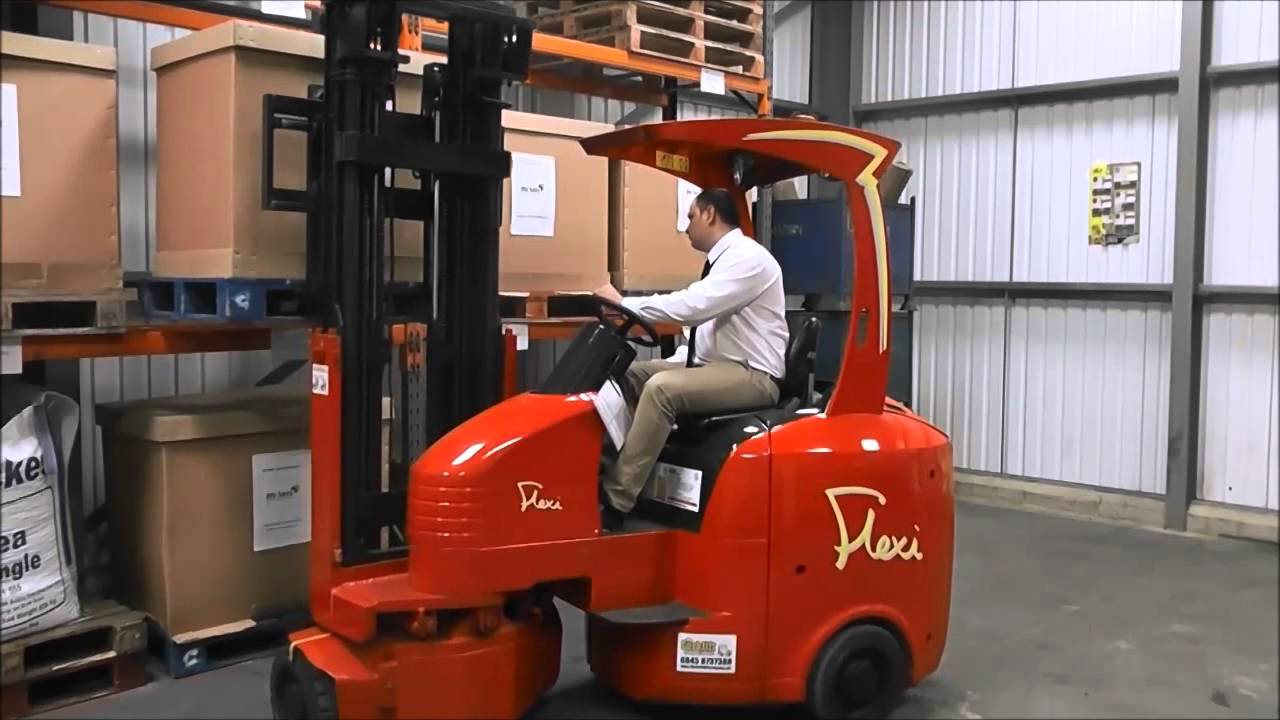 Multi-Directional Forklifts for Sale in Leicester
Do you need to move around large and bulky loads? If so, consider searching for a Combilift multi-directional forklift for sale in Leicester and across Leicestershire. Combilift's C-series models come in electric, LPG, and diesel engines.
Multi-directional forklifts are an excellent option for people wanting to combine the qualities of a side loader, narrow design, and a counterbalanced forklift. Combilift's multi-directional forklifts have advanced load-sensing steering and a 4-way lever positioning of wheels. It's suitable for a variety of industries, including aluminum, plastics, and warehousing.

Iron-phosphate Forklifts for Sale in Leicester
If you're looking for iron-phosphate forklifts for sale in Leicester, BYD carries an iron-phosphate electric forklift that offers outstanding safety in explosive environments. You have three different weight options to choose from, including 2, 2.5, and 2.7 tons.
BYD's ultra-fast battery charges in just one hour. It has explosion-proof protection and a 2 DetEx, which detects gas. If you're concerned about how long the battery will hold up, the eight-year or 10,000-hour battery warranty will likely give you peace of mind. BYD doesn't compromise on comfort features, as it offers a double joystick control and synchronized steering.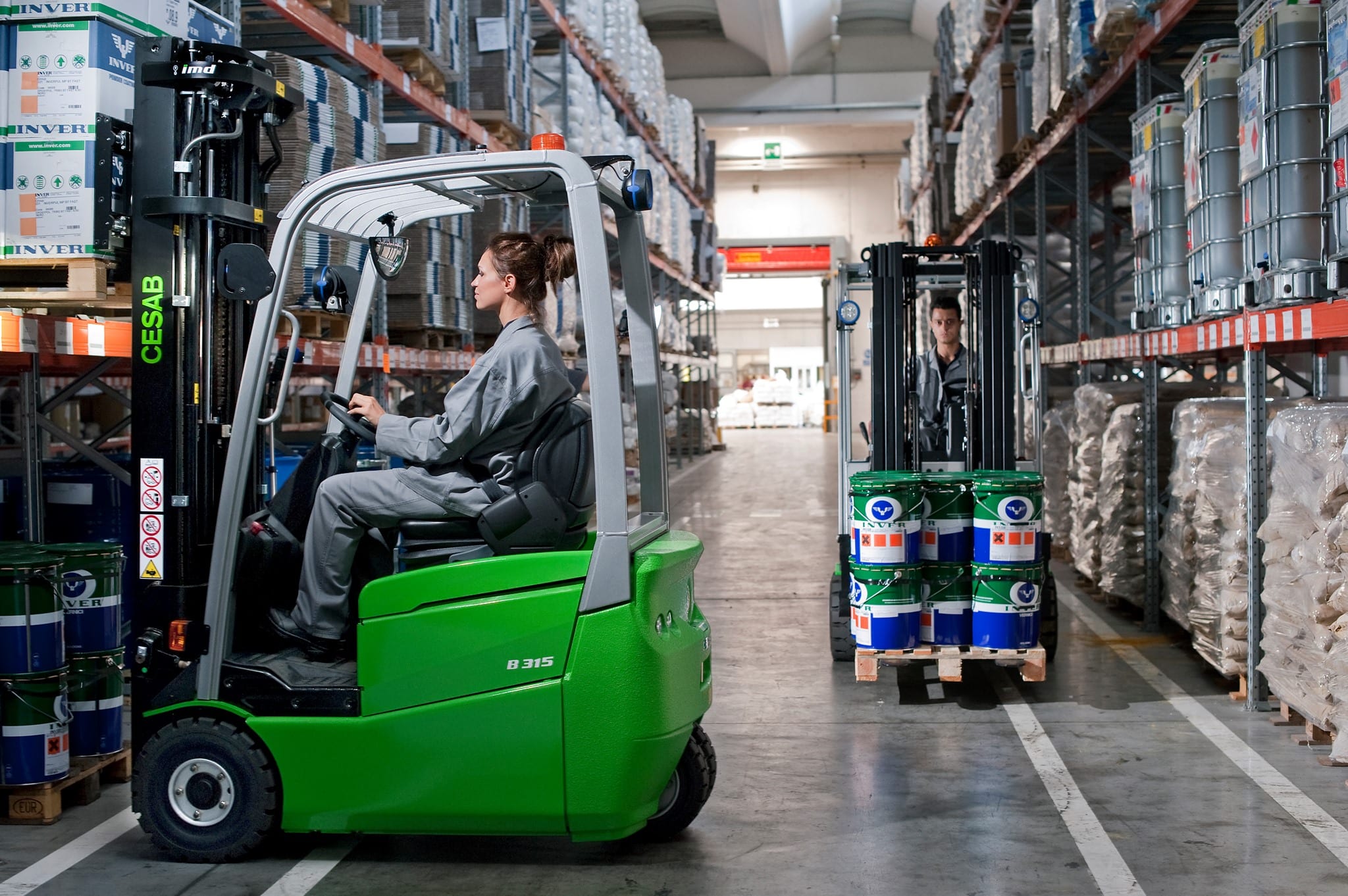 Sideloaders for Sale in Leicester
Whether you want an electric or diesel model, Angus offers high-quality Baumann sideloader lift trucks for sale in Leicester and across Leicestershire. Side loader forklifts are ideal for long loads, as they improve stability and decrease the chance of damaged loads.
Baumann's powerful side loaders come in a range of models. For the electric models, you have the option to choose from three varieties, ranging from three tonnes to five tonnes. The diesel models come in five types. The lowest can handle three to five tonnes, with the highest-power side loader being able to withstand loads of twenty or more tonnes.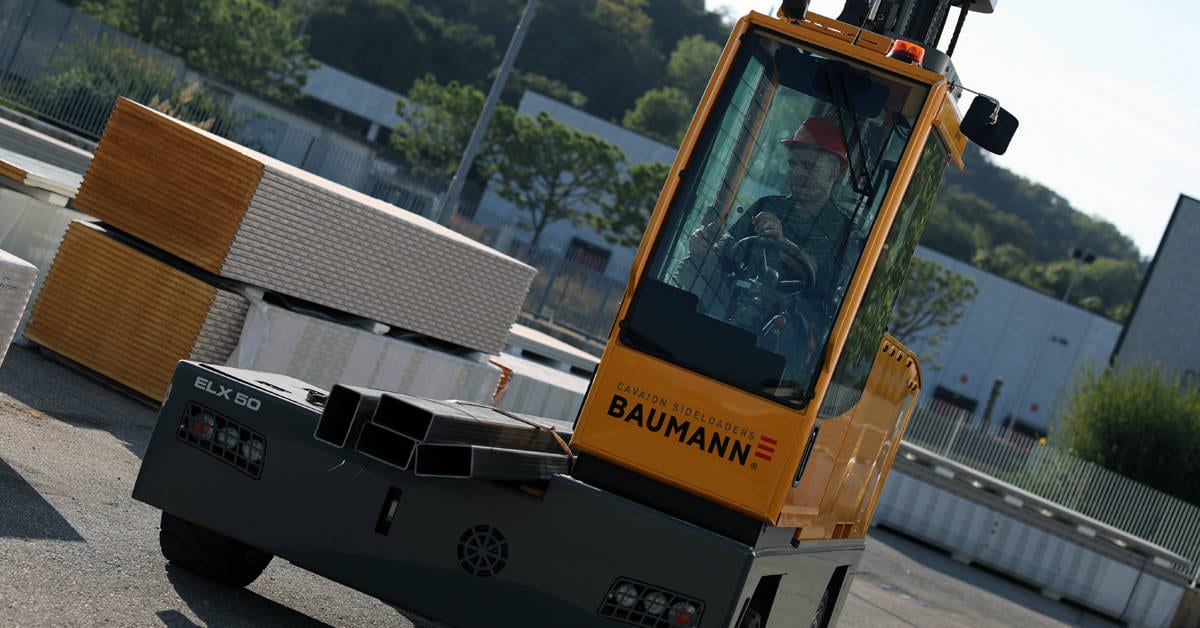 Rough Terrain Forklifts for Sale in Leicester
Rough terrain forklifts have large, sturdy tires for use in uneven outdoor terrain. Choosing a rough terrain forklift for uneven terrain is critical for your safety and so that you don't damage your forklift. If you're looking for Manitou rough terrain forklifts for sale in Leicester and across Leicestershire, we can support you with understanding your options.
Manitou offers many different types of rough terrain forklifts to navigate different load sizes and environments. The engine brand, length to face of forks, overall width, and height of standard overhead guard are all factors to consider when comparing Manitou forklift models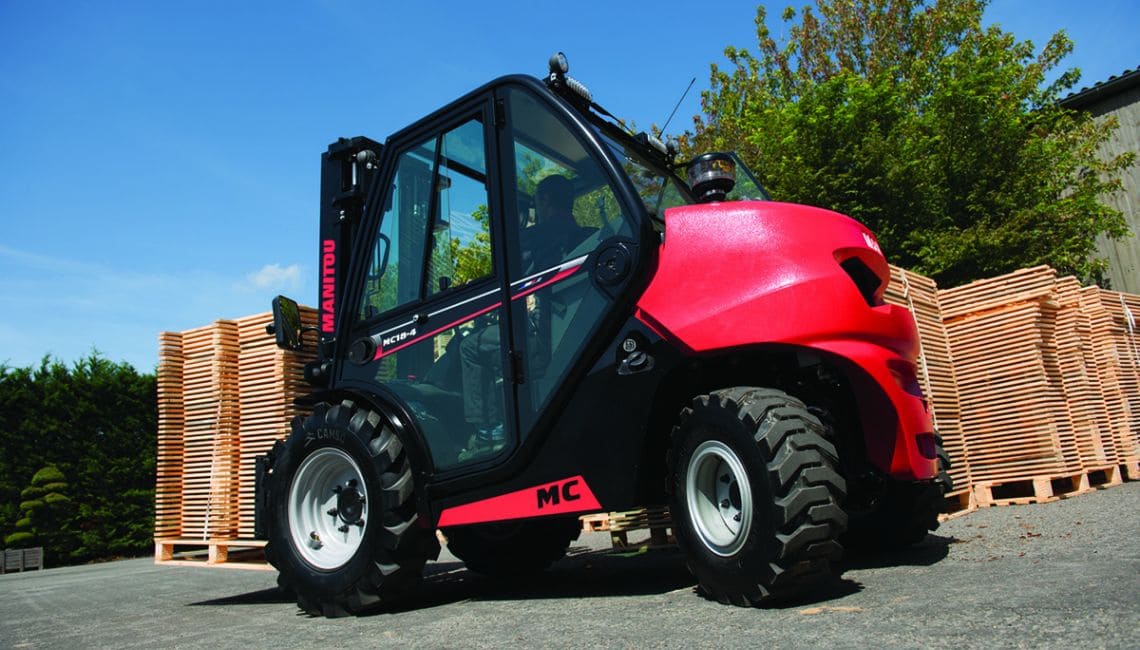 Electric Forklifts for Sale in Leicester
Angus offers several CESAB electric forklifts for sale in Leicester area, including 3 Wheel Electric and 4 Wheel Electric models. CESAB's 3 Wheel Electric is ideal for moving around in restricted areas and offers fantastic stability. Its Intelligent Mast Design offers you unparalleled visibility.
CESAB's 4 Wheel Electric model can handle loads up to 8,500 kg. Additionally, it has many of the same qualities as its lighter 3 Wheel model, including outstanding maneuverability and the ability to work in tight spaces. Balance is at the forefront of CESAB's design, so you can feel confident when operating your electric forklift.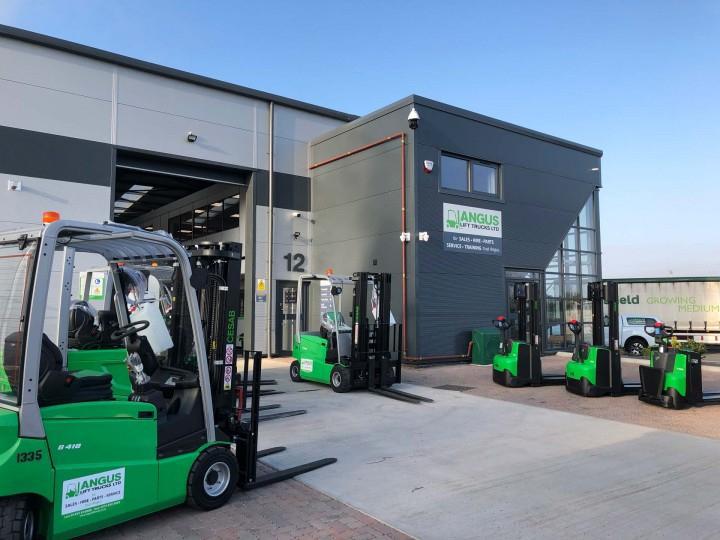 Used Forklifts for Sale in Leicestershire
At Angus, we offer various second-hand forklifts for sale in Leicester and across Leicestershire, meeting several different price points. A used forklift doesn't always equate to lower quality—an advantage of buying a used forklift is that you can take advantage of newer forklift models for a much lower price than buying a brand new fork truck.
As you're looking for used forklifts for sale in Leicestershire, below are some of the many brands that we typically carry: Hyster, Yale, CESAB, TCM, Caterpillar, Toyota.
When you're searching for used forklifts for sale in Leicester area on our website, you can search based on gas, diesel, and electric powered. Our inventory is continually evolving, so we encourage you to check back frequently when you want to buy a used forklift in Leicester and across Leicestershire.
As you work on looking for a used forklift for sale in Leicester, you may have a particular model in mind, or you may want to try out various types. In either case, our staff will happily explain the differences between models, such as the CESAB B318 versus the CESAB P320 powered pallet truck, so that you can make the right purchase for your needs.
Since you want to buy a used forklift in Leicester, equally important as the model is the type of forklift you'd like. Types of used forklifts that work with include: Reach truck, Pedestrian stacker, Powered pallet truck.
As you search around to buy pre-owned forklifts in Leicester, it's extra important to understand the equipment's condition and history. At Angus, we provide you with essential facts on the used machinery in our inventory. Our team cleans, checks, services, and paints all of our used forklifts before putting them up for sale. We also provide you with key specifications, including capacity, mask, lift height, and any additional equipment the forklift comes with.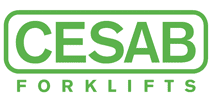 New Forklifts for Sale in Leicester area
There's nothing like the feeling of purchasing brand new machinery, and at Angus, we offer a wide selection of new forklifts for sale in Leicester and across Leicestershire. Benefits of buying a new forklift over a used one include not having to worry about the forklift's history with an owner who didn't properly care for it, and your forklift coming with a warranty.
A quick online search of "Forklift for sale near me" in Leicestershire will reveal many different brands of forklifts. We are a CESAB-approved dealer and carry various types of CESAB forklifts, including: Reach truck, Powered stacker truck, Powered pallet truck, 3 Wheel Electric, 4 Wheel Electric.
CESAB is a European-based company that designs and tests its forklifts in its factories in France, Italy, and Sweden. Customer service is at the forefront of CESAB's mission, along with maintaining an excellent safety inspection record and designing forklifts that reduce environmental impact. For these reasons, we're proud to carry CESAB at Angus.
If you want to buy new forklifts in Leicester and across Leicestershire, in addition to CESAB, we work with various other brands, including Flexi, Combilift, Manitou, Baumann.
If you want to buy a new forklift in Leicester area and aren't sure where to start, contact us today, and we'll be happy to talk you through the advantages and disadvantages of the various brands and models we carry. Every person has different needs for what they'll use their forklift for, so our expert team can do the hard work for you by helping you to understand what each brand and forklift style entails.
If you're looking for forklift sales in Leicestershire, know that we also offer various flexible finance and payment options. We understand that purchasing a new forklift is an investment; we don't want you to have to make any compromises with your company's machinery quality because of it.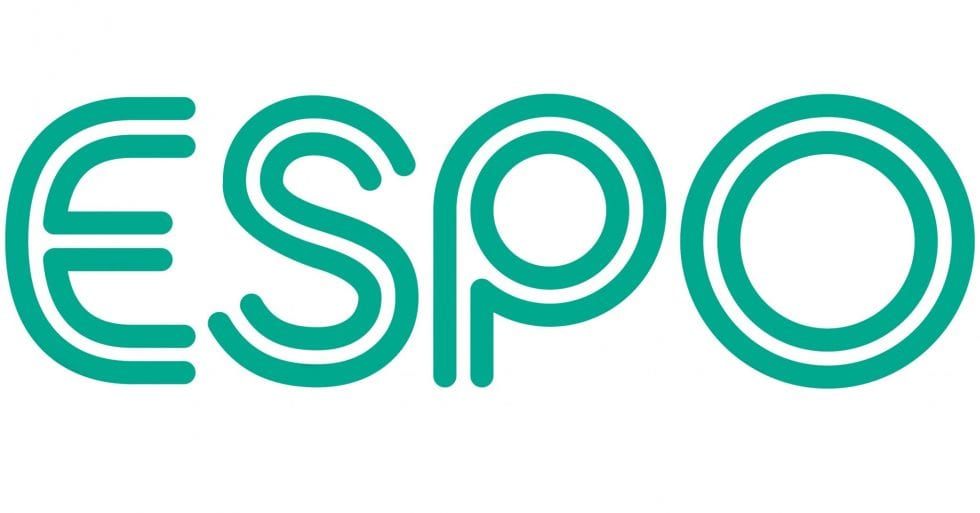 ESPO is a local authority purchasing and distribution consortium, supplying a huge range of workplace products, from food, furniture and hardware to stationery and vehicles, to the education sector and other public and private organisations.

Nylacast is a leading manufacturer of low-weight. low-friction polymers and award-winning solutions for safety-critical applications, with over 530 employees based at six sites around the world. The company's Leicester operation Includes Nylacast Automotive.
Areas We Serve
Angus Lift Trucks has over 35 Years of experience in forklift sales, hire, service & training across Leicestershire, Derbyshire, Northamptonshire, Nottinghamshire, Warwickshire, West Midlands and East Midlands.
Leicestershire
Leicester, Blaby, Charnwood, Harborough, Hinckley, Market Bosworth, Melton Mowbray, Oadby & Wigston
Nottinghamshire
Nottingham, Ashfield, Bassetlaw, Broxtowe, Gedling, Mansfield, Rushcliffe, Newark, to name just a few.
Warwickshire
Warwick, Atherstone, Bedworth, Kenilworth, Leamington Spa, Nuneaton, Rugby, Shipston-on-Stour, Southam, Stratford-upon-Avon, etc.
Birmingham
Digbeth, Erdington, Edgbaston, Harborne, Moseley, Solihull, and many more.
Northamptonshire
Brackley, Corby, Daventry, Desborough, Higham Ferrers, Kettering, Northampton, Rushden, Towcester, Wellingborough, and many more.
Derbyshire
Derby, Matlock, Ripley, Ashbourne, Ilkeston, Swadlincote, Burton-on-Trent, Buxton, Chesterfield, Draycott, to name just a few.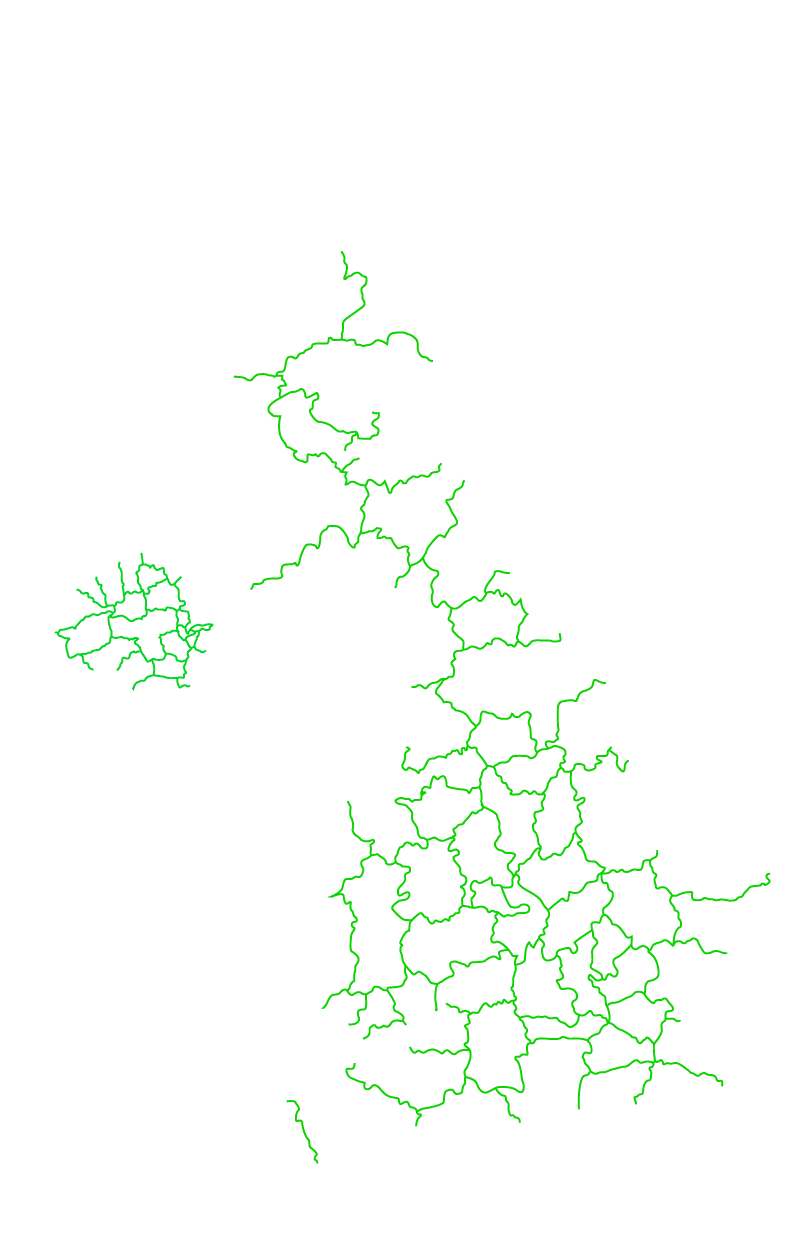 Our Forklift Services in Leicestershire
In addition to sales, we offer the following forklift services across Leicestershire:
Whatever your forklift requirements are Angus Lift Trucks has over 35 Years of experience serving the Leicester area. Call us today to discuss your forklift needs!