Whether you're upgrading the tyres on your forklift or you've just got some old ones lying around, there's no reason that your old forklift tyres should have to go to waste. But how to repurpose old forklift truck tyres in a functional way? 
From indoor furniture that'll draw anyone's attention to yard art, here's how to use re-use old forklift tyres in different inventive ways. 
1. Make an Ottoman
Not only is this a functional design, but once it's done, your guests won't even be able to tell that it's tyre furniture or a way to re-purpose old forklift truck tyres.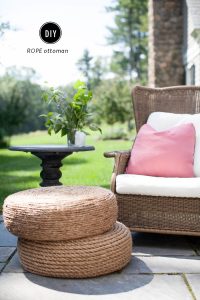 There are a couple of variations of this design, but most of them don't call for a lot of fancy or obscure materials  – as long as you've got glue, plywood, caulk, a drill gun, and a few other things, you'll be all set to turn your old forklift tyre into a stylish, modern ottoman for your living room. 
2. Create a Yard Sculpture
If you've been waiting to unlock your inner artist or creative spirit, there's no time like the present. From a frog to a minion scarecrow, there are endless ways for how to re-use old forklift tyres in a new sculpture that'll draw attention from the neighbours.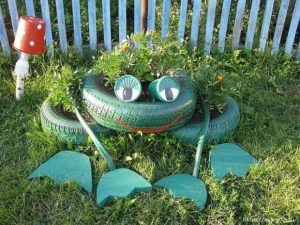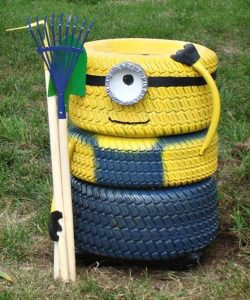 This is also one of the do-it-yourself projects with old tyres that doesn't require a ton of material shopping. Depending on your artistic vision, you may just need a few cans of spray paint to turn that weathered old tyre into an eye-catching garden sculpture or a friendly scarecrow that'll keep the crows away. 
3. Try a Self-Contained Sandbox
While this can be done with regular tyres as well, forklift tyres are especially great for making a self-contained sandbox. Since they're already bigger, your toddlers or kids will have a little more space to play in with this forklifts tyres re-cycling ideas. 
This project also only requires one forklift tyre, so it's a great idea for anyone who's limited on materials but still wants to create something useful and fun. For a little extra style, you can always paint the sandbox a bright colour. 
4. Make an Outdoor Table
Just as you can make an ottoman to reuse old forklift tyres, you can also create an outdoor patio table as well. There are countless ways to execute this idea  – you can spray paint the tyre a colour that matches your existing furniture, you can keep it the same colour but add a glass barrier on top.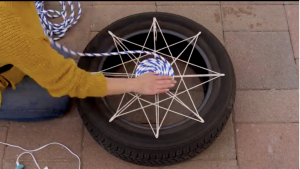 Alternatively, you can wrap twine around it, which helps disguise that you're using forklifts tyres re-cycling ideas. 
5. Turn Them into Tyre Swings
Perhaps the most classic way to repurpose old forklift truck tyres is by turning them into a good, old-fashioned tyre swing.
This is a great idea if you've got kids or family that will put your swing to good use, and the forklift tyre's large, hefty size means that just about anybody can take advantage of swinging on the new tyre swing. 
6. Create Garden Stairs 
While some of the projects above might be good if you've got one or two tyres you want to put to good use, what if you've got a bunch of them that need to be upcycled? In this case, you might want to consider making your old forklift tyres into a garden staircase and using tyres for garden use.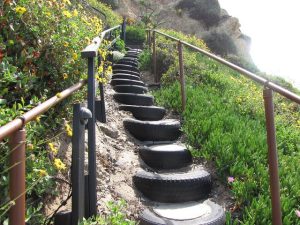 Not only does this make hills or inclines easier to navigate, but it can also stand on its own as a stylish architectural element too. 
7. Use Them as Trash Bins
If your forklift tyres have seen a little too much wear and tear, but you don't want to throw them out completely, you can turn them into their very own trash bin. Along with giving you a cheap, recycled garbage can that you can use, this is also one of the easier projects to take on and is great for getting products made from recycled forklift tyres.
To spice up the bins, you can even add a layer of spray paint  – like blue or yellow  – to make them a more stylish element for your outdoor space. Once it's done, nobody will be able to tell you've done do-it-yourself projects with old tyres. 
8. Turn it into a Christmas Wreath
Plenty of people may put up Christmas lights or Christmas wreaths for the holidays, but what about turning that old forklift tyre into a wreath? But how to upcycle forklift tyres for a Christmas wreath?
With this project, you'll have the most unique decoration on the block, and it's highly customizable as well  – you can pick and choose what lights or decorations go best with your tyre wreath, so it's even more unique to your existing decorations or holiday theme. 
9. Give Your Dog a Place to Snooze
If your dog has a penchant for chewing through expensive orthopaedic mattresses and dog beds, turning your forklift tyre into a dog bed will give them a great (and durable) place to snooze. These creative uses for old forklift tyres works by placing an existing pet bed inside of a forklift tyre, so your pup will still have plenty of comfortable padding when they go to take a nap. 
And, if you've got more than one forklift tyre, you can always create a couple more beds so that your dog has options or so that the cat has a place to nap, too. 
10. Upcycle into a Flower Planter
Why stick with bland planters and pots when you can upcycle your forklift tyres into a colourful flower planter? Keep in mind that while this is a great idea for flowers or other non-edible plants, you may want to avoid using tyre planters for anything you'll end up eating. 
Since tyres have the potential to leak out processing chemicals, there's evidence to suggest that you may want to play it safe and keep your vegetables and fruits out of your old forklift tyre. 
11. Create Your Own Hammocks
Similar to a tyre swing, you can cut your forklift tyres in half to make them into swinging hammocks that the entire family will enjoy. Your forklift tyre may not be as wide as traditional hammocks are, but they're still flexible and fun to play in  – especially for smaller children and kids. 
12. Use Them as Playground Toys
You may have seen tyres used as playground toys and equipment, and for good reason  – there are plenty of ways to recycle an old tyre on the playground. From snail trails that you can climb on, to large megadomes, there are countless ways to put your old forklift tyres to good use on the playground. 
13. Use Them as a Doormat
Many tyres, including forklift tyres, make great doormats for your home or apartment. The textured surface of the tyre means you'll be able to wipe your feet on the treads, and you can make the mat as big (or as small) as you want to. 
14. Make Them into a Seat
Why buy new patio furniture when you can turn your old forklift tyres into a stylish chair? Once again, there are plenty of ways to execute this project. 
You can make the tyre into a bar stool, or if you've got the materials and the excess tyres lying around, you can make a full-fledged chair that's comfier than you might think. 
15. Refashion Them into a Stylish Costume
If you enjoy cosplay or making intricate costumes, old tyres can make a surprisingly cheap but durable form of recycled armour. Keep in mind that this project may be a little more time consuming than most, but the end result will be a cool, personalized costume. 
16. Use it as a Hose Caddy
For old forklift tyres that are a little too beat up to be of much else use, they can also make a perfect hose caddy. You can mount the tyre on the side of your shed or garage if you desire, but you don't have to  – this project is one of the less time-consuming ones on this list and requires very few materials outside the tyre and the hose. 
17. Try Using Your Tyres as the Base For a Decorative Pond
If you've always wanted a decorative pond but never felt like you had the space for one, an old forklift tyre can make a tiny, cheaper version of one. This idea is great for incorporating into small gardens or other areas where you may have limited space. 
18. Make Them Part of an Obstacle Course
If you've ever done an obstacle course, there's a good chance you've seen people recycle tyres for them  – and you can do the same. There are plenty of ways you can use your tyres in the course, but one idea, the tyre flip, requires you to flip the entire tyre over before you can move on.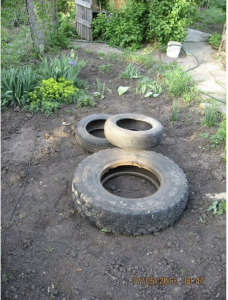 19. Turn Them into Flip-Flops
Need some sandals with a little more tread? Why not use part of that old forklift tyre to make a new pair of durable sandals? Depending on how many materials and tyres you have, you could even make multiple pairs for friends or family. 
20. Incorporate Them into Your Workout Routine
Similar to using tyres in an obstacle course, you can also incorporate them into your workout routine as well. Standard forklift tyres weigh at least fifty pounds or more, so this can be a heavy workout for even the most seasoned weightlifters. 
The easiest way to do so is by just trying to lift the tyre up, although you can also configure a bar that uses tyres instead of weights too. 
This post is also available in:

Français

Deutsch

Italiano

Português

Español

Български

Hrvatski

Eesti

Latviešu

Lietuvių

Polski

Português

Русский

Slovenčina

Slovenščina

Türkçe

Українська

Albanian

Čeština

Dansk

Nederlands

Ελληνικά

Magyar

Română