A forklift is one of the most recognisable pieces of equipment used in warehouses and construction sites because of the small cab and the fork used to lift and lower objects. 
Forklift trucks have many uses beyond moving items on and off warehouse shelves, though that is one of the most common forklift uses worldwide. 
What are the top 10 key uses of forklift trucks and places they're needed? 
Warehouses

Construction sites

Loading docks

Recycling centres

Dumping

Ploughing snow

Sweeping and cleaning

Stacking

Moving people

Loading and unloading
1. Warehouses
The uses of forklift trucks in warehouses range from transporting items from place to place to lifting them on and off high shelves. Many warehouses use pallet jacks to lift pallets and boxes off the floor to transport them, but forklifts are more versatile. Pallet jacks only lift loads barely above the floor, while forklifts can lift them onto high shelves. Forklifts can also handle more weight than pallet jacks and even tilt to ensure the stability of heavier loads. 
Sideloaders and multi-directional forklifts manoeuvre in spaces where a standard counterbalance forklift won't fit.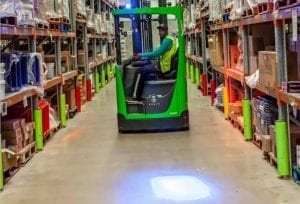 Standard forklifts work for most warehouse tasks, though heavy items like shipping containers require a much heavier 50-ton forklift that can handle the weight. 
The items that need to move can determine the fork to use. Carpet poles are for heavy carpet rolls, while lumber and plywood forks easily handle loads of wood. 
2. Construction Sites
Forklift uses at construction sites include loading and unloading materials and moving them from place to place. Rough terrain forklift trucks can move building materials over uneven ground. Common forklift truck applications at building sites include jobs unloading pallets of bricks or other heavy building materials and transporting them from the unloading site to where they're needed.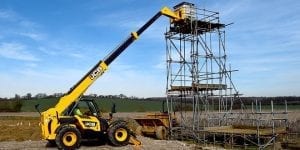 Block forks let the forklifts lift bricks and blocks safely, while tile and barrel forks have cutouts to accommodate those items. Forklift trucks help remove materials after demolition, though a front loader is the better piece of equipment for most jobs like that. 
3. Loading Docks
Loading docks and actual ship docks are obvious places for forklift uses. The operator slides the fork into pallets to load and unload them. Forklift trucks can lift many materials without pallets, too. One of the handiest forklifts uses for loading docks is being able to drive the forklift directly into the backs of the trucks to deposit a load or remove it.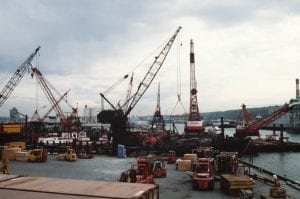 Unloading and loading pallets and other items are specialties of the forklift truck. There's no better piece of equipment to add or remove loads on shelves, ships, or trucks. Many ships have compartments where the forklift truck driver can deposit cargo in a way other equipment couldn't do. 
4. Recycling Centers
Forklift trucks applications in recycling centres include moving compressed bales of materials from place to place and dumping loose materials where they need to be. Forklifts can move bales of material like paper with the forks, but a bale clamp device makes moving baled materials easier. Some people slide the forks underneath the material and push them on the floor, but this isn't one of the approved uses for forklift trucks.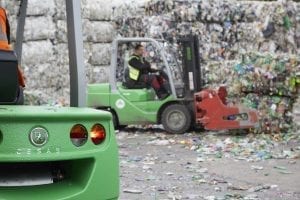 Aluminum, glass, or plastic recycling centres might require a hopper or other attachments to move the materials. An 8,000 to 11,000-pound forklift should be heavy-duty enough for most recycling-centre tasks. 
5. Dumping
Operators can attach hoppers to the forks and often dump them without getting out of their seats. These hoppers let forklift drivers lift waste materials and drop the load into a dumpster. The hoppers also move dirt or outdoor refuse and make forklift trucks even more useful. 
Landscaping work that requires moving earth and dumping can be made easier with a forklift truck. 
6. Ploughing Snow
A blade attachment for forklifts provides one of the forklift uses that shows how versatile these machines can be. Not only can users lift, stack, transport, dump, and sweep, but with a front blade they can plough snow from driveways and relatively flat areas. 
The blade can push dirt and other lightweight materials, too. 
7. Sweeping and Cleaning
Sweeping is one of the forklift trucks applications that surprises many people. Brush sweeper attachments designed for the front of the machine let them sweep a warehouse floor or an outdoor dock.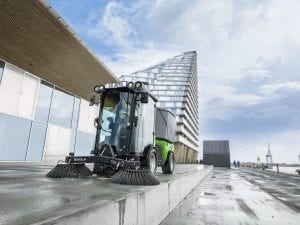 These brushes typically slide onto the forks and secure with bolts. The bristles are dense and stiff enough that the attachment can sweep wood shavings, sawdust, coarse dirt, rocks, bricks, and wood scraps or broken pallet pieces. 
Twin brushes that spin and scrub are also available.
8. Stacking
Stacking items, particularly pallets, is one of the best uses of forklift trucks in warehouses and anywhere items need to stack. Even when workers don't use the forklift to transport items, it can stack them into loads for other equipment to move.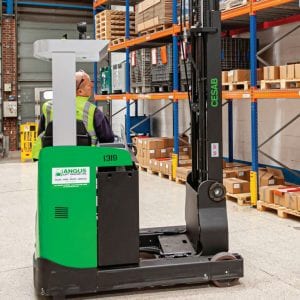 The forks' vertical lifting motion makes adding and removing flat items on a high shelf easy, though the machine works as well to create a stack of items on the floor. 
9. Moving People
Platforms for moving and lifting people made for forklift trucks enclose the person to about waist height for safety. People should never stand on the forks, an attachment, or any flat platform not designed for moving personnel.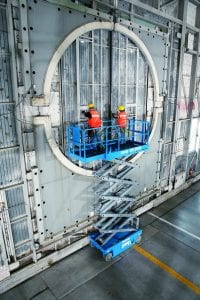 Transporting people is one of the forklift trucks applications that makes forklift trucks a must-have tool that can do the work of several other pieces of equipment. A forklift can't lift as high as a cherry picker, but for shelves within reach, the forklift can eliminate the need for more heavy-duty equipment. 
10. Farming
Tractors are pieces of farming equipment no farmer wants to be without, but a forklift truck adds more versatility. A bale clamp lets the forklift move hay bales from place to place. Many large operations have equipment that handles that, but smaller farms can benefit from using a forklift truck.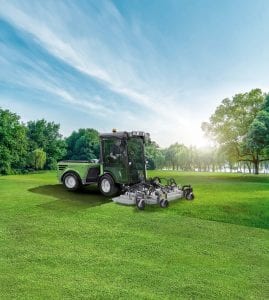 With fork extenders, different fork shapes and sizes, and forklift trucks available from the smallest indoor model to heavy-duty pneumatic forklifts designed to carry heavy shipping containers, a forklift truck is a piece of equipment no one should do without. 
Of course, if you require forklift sales, rental, training, or maintenance services across Midlands and the UK, at Angus Lift Trucks we always provide our most competitive prices in  Leicester, Northampton, Birmingham, Warwick, Nottingham, Derby, East Midlands, and West Midlands
This post is also available in:

Français

Deutsch

Italiano

Português

Español

Български

Hrvatski

Eesti

Latviešu

Lietuvių

Polski

Português

Русский

Slovenčina

Slovenščina

Türkçe

Українська

Albanian

Čeština

Dansk

Nederlands

Ελληνικά

Magyar

Română